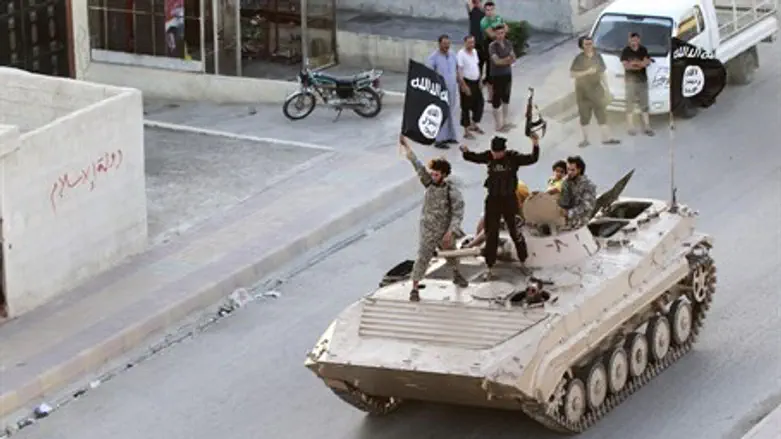 ISIS terrorists in Syria
Reuters
The Islamic State (ISIS) group appeared to try to keep morale high among its supporters in a new audio message released on Saturday, which also called for attacks on the U.S. during the holy month of Ramadan, AFP reports.
The audio recording reportedly featuring ISIS spokesman Abu Mohamed al-Adnani was posted online late Saturday evening after much fanfare by ISIS supporters on Twitter.
"Will we be defeated if we lose Mosul, or Sirte, or Raqa, or all the cities, and go back to how we were before?" Adnani said.
The three cities are ISIS's strongholds in Iraq, Libya, and Syria respectively.
"No. Defeat is only losing the desire and the will to fight," Adnani declared, in his first voiced speech since October.
The spokesman appeared to mock the United States, which is leading a coalition of countries in an air war against ISIS in Iraq and Syria, for failing to definitively defeat the group, boasting that even "20,000 air strikes" by the coalition had not destroyed ISIS.
Adnani also called for attacks on the United States and Europe during the holy month of Ramadan, which starts in early June this year, an appeal he made at the same time last year when urging supporters to seek "martyrdom".
He similarly called for Muslims to carry out attacks in France, Australia, Canada and Belgium, a call which came after the targeting of France's Charlie Hebdo magazine in January of last year.
On Friday, flyers apparently dropped by the coalition on Raqa city in northern Syria urged residents to leave the city, perhaps ahead of an offensive by anti-ISIS forces to recapture it, reported AFP.
ISIS has seized swathes of territory in Syria and Iraq to create a self-styled "caliphate." Its leader, Abu Bakr al-Baghdadi, has received pledges of alliance from jihadist groups around the world.
Al-Baghdadi, like his spokesman, has called on Muslims to attack the Western world, and in one incident threatened attacks on Israel.