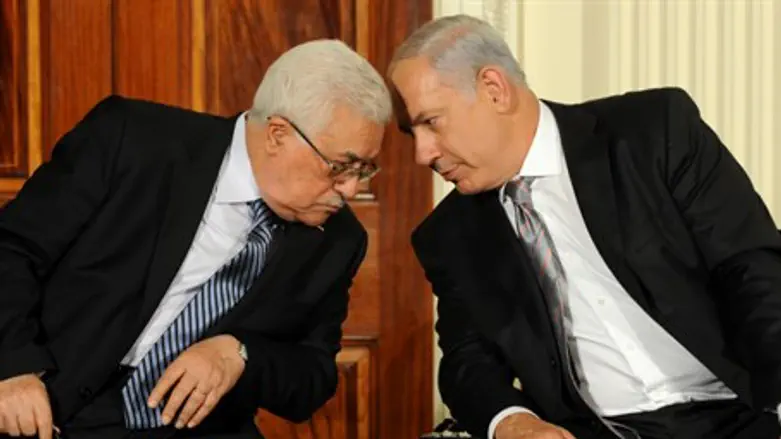 Abbas and Netanyahu (archive)
Flash 90
Arab countries including Saudi Arabia, the Gulf states, Jordan and Egypt, are prepared to discuss with Israel changes to the Saudi peace initiative in order to resume peace talks between Israel and the Palestinian Authority (PA), Channel 10 News revealed on Friday.
In return for a peace agreement with the PA, those countries would reportedly change their attitude towards Israel.
Western diplomatic sources quoted by Channel 10 said that Arab countries have been sending messages to Israel through various emissaries, including former British Prime Minister Tony Blair, saying they are expecting to receive from Israel a response to the Saudi peace initiative and are also expecting Israel to make gestures towards the Palestinians in Judea and Samaria, so that peace talks can be relaunched and those countries could ultimately change their public attitude to Israel.
The Saudi peace initiative, unveiled in 2002 and re-endorsed at the 2007 Arab League summit, says that 22 Arab countries will normalize ties with Israel in return for an Israeli withdrawal from Judea and Samaria.
But Israel has rejected the plan due to the fact that it calls for Israel to accept the so-called "right of return" for millions of descendants of Arabs who fled pre-state Israel, effectively bringing an end to the Jewish state.
The diplomatic sources who spoke to Channel 10 News said that there is a desire among the leadership of the Arab countries in the region that do not have diplomatic relations with Israel to change their attitude towards the Jewish State, and to start taking an active part in mediating between Israel and the PA on the basis of the Saudi peace initiative.
While Israel has refused the conditions of the Saudi initiative, the sources are now saying that the messages conveyed to Prime Minister Binyamin Netanyahu implied that the Arab states are ready to discuss with Israel some changes in the initiative, so that it serves as a foundation towards a return to negotiations between Israel and the Palestinians.
The report comes days after Egypt's President, Abdel Fattah al-Sisi, urged Israelis and Palestinians to seize what he said was a "real opportunity" and renew peace talks.
The comments were welcomed by Prime Minister Binyamin Netanyahu, who stressed that "Israel is ready to participate with Egypt and other Arab states in advancing both the diplomatic process and stability in the region."
Palestinian Authority (PA) chairman welcomed Sisi's call as well, saying he welcomed the Egyptian president's efforts to achieve peace and establish a Palestinian state.
(Arutz Sheva's North American desk is keeping you updated until the start of Shabbat in New York. The time posted automatically on all Arutz Sheva articles, however, is Israeli time.)