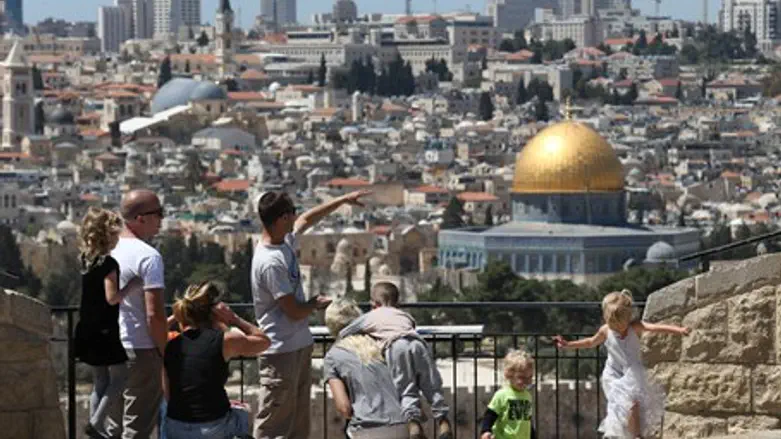 Tourists enjoy the sites in Jerusalem
Nati Shohat/Flash 90
Arab and Islamic nations are demanding that the United Nations remove a panel from an Israeli exhibition that calls Jerusalem "the spiritual and physical capital of the Jewish people", The Associated Press reported Friday.
The exhibition, in a corridor near a popular cafe in the UN basement, includes panels on Israel's Arabs, its technology innovations and other aspects of Israeli life, according to the news agency.
A letter from the Palestinian UN mission to Secretary-General Ban Ki-moon and General Assembly President Mogens Lykketoft circulated Thursday evening expressed "vehement rejection" at the description, echoing protests by Arab nations at the UN and the 57-member Organization of Islamic Cooperation.
The letter said any references "which purport to assert Israeli sovereignty on this land ... are legally, politically and morally incorrect and unacceptable."
The Palestinian Authority (PA) Charge d'Affaires Feda Abdelhady-Nasser said the "misleading and inappropriate depictions of Jerusalem ... negate the Palestinian existence in the city as well as its historical Arab, Muslim and Christian identity and heritage over the centuries."
She added that the UN Security Council and General Assembly "have clearly rejected Israel's illegal annexation of east Jerusalem" and called on Ban and Lykketoft to take "the necessary measures for the removal of the ... panel."
The letter comes just weeks after the UN's cultural body, UNESCO, approved a resolution denying any Jewish connection to the Temple Mount and treating it only as a Muslim site.
The motion refers to the Temple Mount solely as "Al-Aqsa Mosque", and to the Western Wall as the "Al-Buraq Plaza".
Following that resolution, an outraged Prime Minister Binyamin Netanyahu announced he would host a Jewish history lecture for UN officials. The UN rejected the idea.
In response to the latest anti-Israel move, UN spokesman Stephane Dujarric said on Friday the Israeli mission followed the rules for mounting an exhibition.
While the UN tries to balance the wishes of the country wishing to exhibit without offending another country, he said, it "is not an exact science and ... is not always easy", according to AP.
(Arutz Sheva's North American desk is keeping you updated until the start of Shabbat in New York. The time posted automatically on all Arutz Sheva articles, however, is Israeli time.)