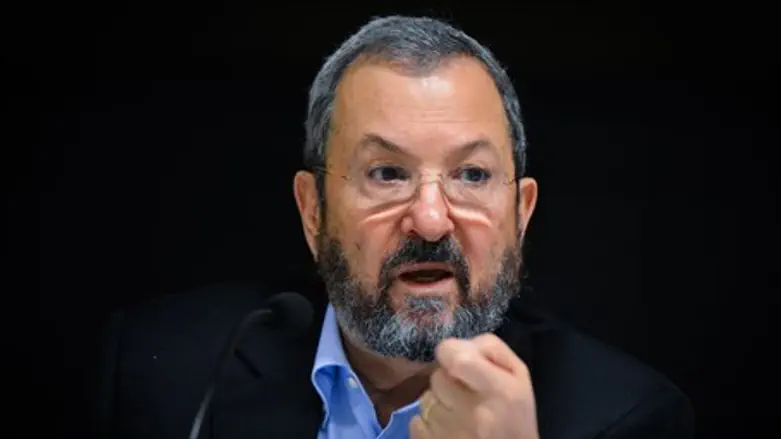 Ehud Barak
Flash 90
Former Prime Minister and Defense Minister Ehud Barak on Friday blasted the government as "fascist" following the resignation of Defense Minister Moshe Ya'alon, as a result of MK Avigdor Liberman taking his post as part of his coalition agreement with Prime Minister Binyamin Netanyahu.
The government is "showing signs of fascism", Barak charged in an interview with Channel 10 News, adding, "The dismissal of Ya'alon should be a red light to all of us about what is happening in the government."
"Bogie's dismissal is just the end of a chain of events which began with the soldier who shot the terrorist," said Barak. "These incidents show that a hostile takeover of the Israeli government by dangerous elements has taken place."
"This government is destined to fall," warned Barak, who added, "The appointment of unsuitable defense ministers has happened before and led to dangerous results. In the first months, Liberman will try to appear moderate, but sooner or later, we will pay the price. Let us pray that it will not be too heavy."
"I travel a lot around the world," claimed Barak. "There is no serious leader remaining in the world who believes the Israeli government."
Liberman's office replied to Barak's comments and said, "The legacy left behind by Ehud Barak at the end of his term both as Prime Minister and Defense Minister is that of burning ruins, failed operations and a trail of questionable security transactions."
Ya'alon, who announced his resignation at a press conference earlier Friday, said, "I have no intention of leaving public and political life in the state, and in the future I will return to contend for the nationalist leadership of the state of Israel."
Ya'alon added that he always had his focus on the security of Israel during his time in office, in "ethical" matters as well.
He added that he worked in "harmony" with Netanyahu and thanked him for that, but said he recently found himself in "moral" disagreements with Netanyahu and other ministers.
(Arutz Sheva's North American desk is keeping you updated until the start of Shabbat in New York. The time posted automatically on all Arutz Sheva articles, however, is Israeli time.)