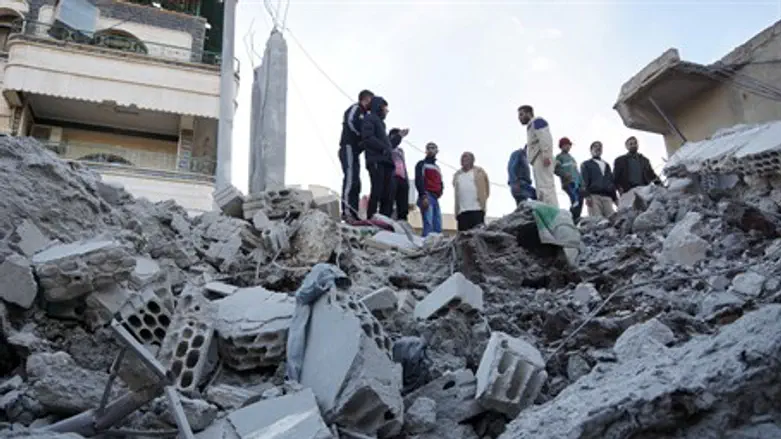 Site of airstrike in Syria
Reuters
The United States on Friday rejected a Russian proposal to launch joint air strikes against jihadists from next week in Syria, but said the two sides were discussing ways to better monitor a shaky truce.
"We do not collaborate or coordinate with the Russians on any operations in Syria," Pentagon spokesman Navy Captain Jeff Davis told reporters, explaining that Washington and Moscow have separate military objectives.
"Russian operations are supporting and enabling the Assad regime and our focus is solely on degrading and defeating ISIL," Davis said, using another acronym for the Islamic State (ISIS) group.
Earlier Friday, Russian Defense Minister Sergei Shoigu suggested the two countries launch joint strikes against the Al-Qaeda-affiliated Al-Nusra Fron and other illegal armed groups that do not support a frail truce brokered by Moscow and Washington in February.
He also proposed that joint strikes be made against "convoys containing weapons and ammunition, armed units that illegally cross the Syrian-Turkish border."
Davis said Russia had not made a formal proposal to the United States.
"I've only seen the same press reports you have -- nothing formal has been presented to us," he told reporters.
Russia and the United States pledged earlier this month to redouble efforts to find a solution to the Syrian conflict, which has killed more than 270,000 people and displaced millions since 2011, and extend a truce across the war-torn country.
This week in Vienna, the 17-nation International Syria Support Group (ISSG) -- co-chaired by the United States and Russia -- vowed to bolster the ravaged nation's shaky ceasefire and send humanitarian relief.
"What we are discussing with our Russian counterparts -- in keeping with the ISSG communique last week in Vienna -- are proposals for a sustainable mechanism to better monitor and enforce the cessation of hostilities," State Department spokesman John Kirby said Friday.
"None of those proposals have yet been agreed upon."
Kirby said the "vast majority" of the violations of the truce had been carried out by the regime, which is backed by Moscow.
"We look to Russia to end such violations, which includes strikes that have hit civilians and civilian facilities," he said.
AFP contributed to this report.
(Arutz Sheva's North American desk is keeping you updated until the start of Shabbat in New York. The time posted automatically on all Arutz Sheva articles, however, is Israeli time.)