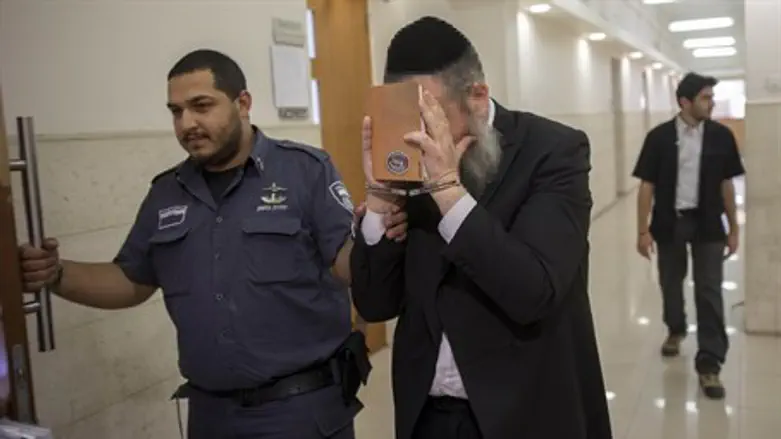 Rabbi accused of rape arrives at Jerusalem court
Yonatan Sindel/Flash 90
Jerusalem prosecutors filed an indictment against a rabbi who served as a mashgiach at a yeshiva in the city, for a series of rapes carried against a number of female relatives over the course of several years.
The accused began his horrific campaign of abuse when his first victim was just six years old, and continued abusing her and other female relatives by various means of coercion and manipulation.
According to the indictment, the regarded his young victims as mere playthings to satisfy his perverted lusts, and took advantage of their naivete and vulnerability to gain total emotional control over them.
The indictment describes how he abused his position of respect within the community, and the fact that he had supported the immediate family of his primary victim (known as "A.") financially in the past.
He had attempted to justify his actions by perversely claiming they were not only permitted under Jewish law, but mandated. In some cases he even went as far as to claim his acts of abuse served to "purify" his victims spiritually and atone for sins their souls committed in "past lives", or to cure them of physical ailments.
In one particularly extreme incident relayed in the indictment, the accused secretly recorded leading haredi Rabbi Chaim Kaniyevsky issuing a halakhic ruling on a totally unrelated subject, then played it back to the accused and claimed the rabbi was in fact endorsing the abuser's actions, in order to persuade her against speaking out.
"A.", however, saw through the ruse.
The prosecution has requested the suspect be remanded in custody until the end of legal proceedings.