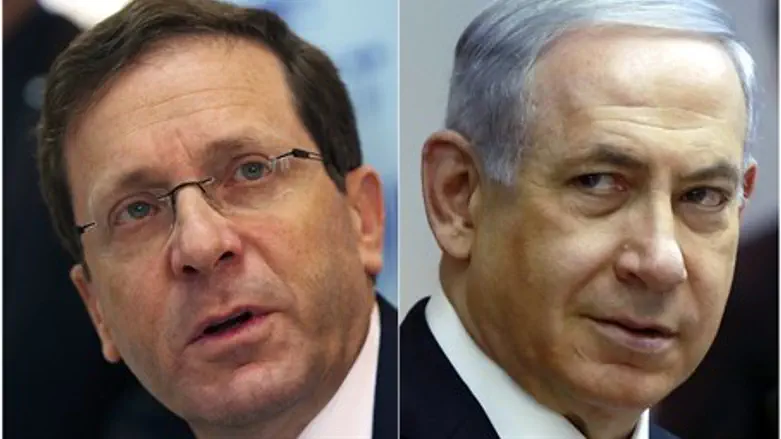 Netanyahu and Herzog
Reuters
Prime Minister Binyamin Netanyahu and Opposition head MK Yitzhak Herzog (Zionist Union) are continuing their talks to bring Herzog's leftist party into the coalition, but as of Wednesday morning there have yet to be any breakthroughs on a unity government.
The core sticking point between the sides remains the diplomatic policies that a joint government would pursue.
Netanyahu refuses to allow Herzog to advance his "separation plan" from the Palestinians, which among other things involves cutting off Arab neighborhoods such as Isawiya from the Jerusalem municipality and transferring them to Palestinian Authority (PA) control in a unilateral division of the capital.
Herzog has long touted his idea of dividing the capital and making massive concessions, but ironically Netanyahu and his governments have also been accused of enforcing a quiet de facto division of the 3,000-year-old capital of the Jewish people.
Aside from the "separation plan," it appears that Netanyahu is reluctant to give Herzog a free hand in holding peace talks by himself or making announcements about a reduction of construction in Judea and Samaria.
The talk of construction has revolved around a formal building freeze in the Biblical heartland of Israel. Netanyahu's past two governments have been imposing a covert and informal construction freeze on the region ever since the last failed round of peace talks in 2013.
Despite the difficulties in the talks, Herzog's representatives and MKs of his Labor faction who support joining the government are holding intense discussions with the Labor convention to try and convince them to throw their weight behind the move.
Zionist Union MK Revital Swid on Wednesday morning told Army Radio that she opposes joining a unity government, but will accept whatever decision the party makes.
"I am against joining Netanyahu's government - it would be a great mistake, but if an opportunity comes suddenly, which will be an historic opportunity, we will consider it," she said.
Meanwhile Likud MK David Amsalem warned that bringing Zionist Union into the government would bring about the downfall of the coalition.
"Bringing the Labor party into the government is insolence and a bold-faced lie to our voters," he said of the union with Likud's leftist rivals. "By the way, the government won't last long anyway - within five to seven months we will see it break apart because of internal clashes. What do we have in common with the Labor party?"