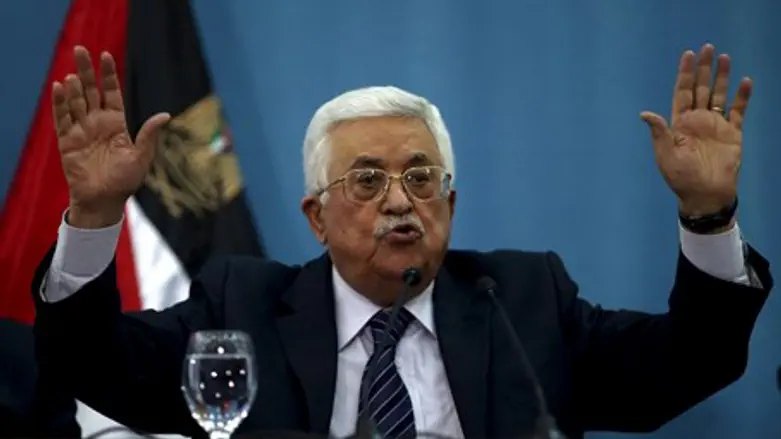 PA chairman Mahmoud Abbas
Reuters
Palestinian Authority (PA) chairman Mahmoud Abbas on Tuesday evening welcomed Egyptian President Abdel Fattah Al-Sisi's call for a peace agreement between Israel and the PA.
In a statement quoted by Israeli media, Abbas said he welcomed the Egyptian president's efforts to achieve peace and establish a Palestinian state.
Abbas also highlighted "Egypt's historic role in supporting the Palestinian cause."
Hamas also welcomed Sisi's statement, though its comment focused more on his call to achieve unity between rival Palestinian factions.
Hamas spokes Sami Abu Zuhri said in a statement quoted by the Ma'an news agency that Hamas is ready to undertake all efforts towards reconciliation and achieving national Palestinian unity.
Abu Zuhri said he hoped that Sisi's statements would re-energize achieving reconciliation between opposing Palestinian factions.
Earlier Tuesday, the Egyptian president had issued a call to "join forces" to make regional peace more possible.
"After signing the peace accords, no one thought that true and lasting peace, as it exists today between Israel and Egypt, could be achieved. However, it became a permanent peace due to the changing times and reality," Sisi stated. "There is an opportunity to write a new chapter of peace in the area."
"If we can all join forces in order to solve the Palestinian issue by creating hope for Palestinians and assuring security for Israelis, we will be able to write a new chapter that may prove to be more important than the peace accords between Israel and Egypt," he added.
Prime Minister Binyamin Netanyahu welcomed Sisi's remarks, stressing that "Israel is ready to participate with Egypt and other Arab states in advancing both the diplomatic process and stability in the region."
"I appreciate President Sisi's work and also draw encouragement from his leadership on this important issue," added Netanyahu.