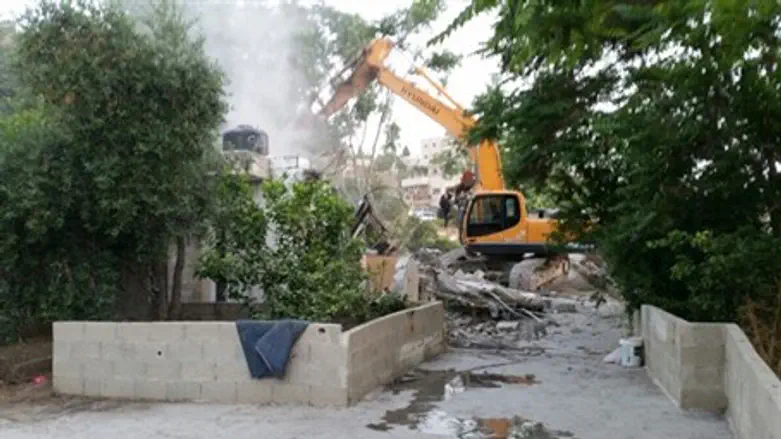 Demolition of illegal Arab buildings in Jerusalem
Arutz Sheva
Two illegal Arab houses built in the Jerusalem Walls National Park in 2002 were demolished on Tuesday morning by the Israel Parks Authority and Jerusalem district police.
The park is located in the historic City of David near the Old City of Jerusalem.
The houses were originally scheduled to be destroyed prior to the Passover holiday in April, but hours ahead of the planned operation the demolition order was delayed by the Prime Minister's Office.
Following weeks of pressure to enforce the orders against the two buildings, Jerusalem district police arrived Tuesday morning with demolition workers and leveled the structures.
Two months ago a Jerusalem court rejected an appeal by the residents of the illegal houses, ruling that there was no basis for any further delays of the existing demolition orders.
The Regavim organization, a watchdog group which monitors illegal construction throughout Israel, praised Israeli police and the Parks Authority for enforcing the orders against the homes.
"These are homes that were built inside of a very important national park [nearly] 15 years ago. We've been in a legal war of attrition for so long until the problems were fixed and the situation restored to its original state. That's why it's so important to strengthen the national parks in Jerusalem and to enable immediate enforcement against any new incursion."