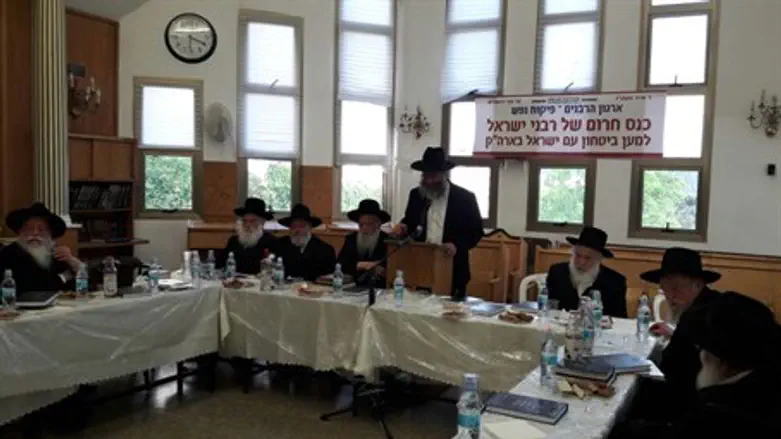 The rabbinical conference in Jerusalem
Hezki Baruch
Dozens of leading rabbis on Sunday evening took part in a special "Emergency Conference for the Security of the Nation of Israel in the Holy Land," where they spoke about the scourge of the current Arab terror wave that has claimed 34 victims' lives since last September.
The conference was held at the Bostoner Rebbe's Torah study center in Jerusalem's northwestern Har Nof neighborhood, and Arutz Sheva was on hand for exclusive coverage of the event.
Those taking part included the Bostoner Rebbe Rabbi Levi Yitzhak Horowitz, Tzfat (Safed) Chief Rabbi Shmuel Eliyahu, Bnei Brak Chief Rabbi Moshe Landau, Temple Institute head Rabbi Yisrael Ariel, American-born Har Nof Rabbi and Torah lecturer Rabbi Sholom Gold and many others.
"The only way to uproot the Arab murderers' wave of terror in the Holy Land is by the Israeli government standing firm that there will never be negotiations on territories of the Holy Land, (and giving) an expression of remorse over the previous withdrawals and 'the wretched declaration' of two states for two peoples," wrote the rabbis in a summary after the conference.
They also addressed the "stupid" statements by senior politicians in the government and senior IDF brass that harm the honor of the nation of Israel and IDF soldiers. The statement is an apparent reference to IDF Chief of Staff Gadi Eizenkot's rejection of the Talmudic dictum of "when someone comes to kill you – kill him first" as a "slogan" in February, and his subsequent backing from leading ministers.
"Every Arab terrorist who goes out from his home with an intention to harm Jews loses the right to exist, and they should be shot without any superfluous considerations," declared the rabbis.
Condemning the generals and politicians, they quoted Deuteronomy 20:8, saying, "those who don't want to act in this way should not take on a role of responsibility for the security of Israel - 'the man that is fearful and faint-hearted let him go and return unto his house.'"
They also warned against a unity government with the leftist Zionist Union, noting that the party and its members "declare openly their desire to spur on the negotiations on giving up territories."