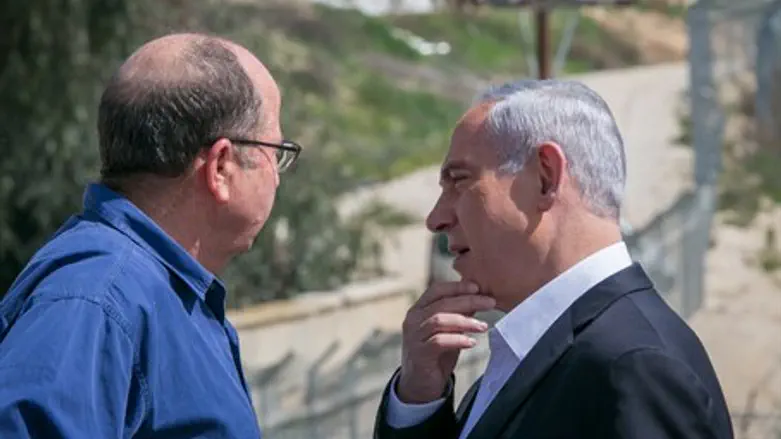 Binyamin Netanyahu, Moshe Ya'alon
Ohad Zwigenberg/POOL
An intense telephone conversation last night between Prime Minister Binyamin Netanyahu and Defense Minister Moshe Ya'alon (Likud) preceded Thursday morning's clarification, in which IDF Deputy Chief of Staff Yair Golan distanced himself from controversial comments he made.
In a Holocaust Remembrance Day ceremony speech on Wednesday night, Golan said, "if there is something that scares me about the memory of the Holocaust, it is the identification of horrifying processes that occurred in Europe in general and Germany in particular - 70, 80 and 90 years ago - and finding evidence of them here among us, today, in 2016."
Ya'alon leaped to Golan's defense on Wednesday night, slamming his critics as being part of an anti-IDF campaign, and claiming Golan was "charting out a path and ethical standards with the help of (his) moral compass."
According to Channel 2, Netanyahu called Ya'alon on Wednesday night and said Golan's statements were unacceptable.
Several hours later, the IDF Spokesperson Unit published Golan's attempt to backtrack from the comment.
Significantly Golan in his retraction took pains to say he was not criticizing Netanyahu, when he said, "it was never my intention to make such a comparison or to make criticisms of the political leadership."
Sources close to Netanyahu said, "with all due respect to the Deputy Chief of Staff, his words were wrong and it is good that he clarified his statement."
In light of the circumstances it would appear the call featured a sharp clash between Netanyahu and Ya'alon over the latter's quick support for Golan's apparent comparison between Israel and Nazi Germany.
According to the report, there are tensions remaining between Netanyahu and Ya'alon from the case of Elor Azariya, an IDF soldier currently facing manslaughter charges for having shot a wounded Arab terrorist in Hevron.
Azariya has repeated argued he shot over concerns the terrorist - who minutes earlier with an accomplice stabbed a soldier - was moving to detonate a bomb belt; it has been confirmed that suspicions of a bomb belt had not been ruled out.
Sources close to Netanyahu reason that Ya'alon rushed to condemn Azariya, while those around Ya'alon claim that the Prime Minister did not give backing to the military command that issued a quick condemnation of the soldier.
That confrontation comes despite the fact that Netanyahu himself criticized Azariya within hours of the incident, even before the investigation had any time to clarify the circumstances.
Ya'alon has stood out in his sharp and constant criticism of the soldier, even going so far as to compare him to Islamic State (ISIS) terrorists.