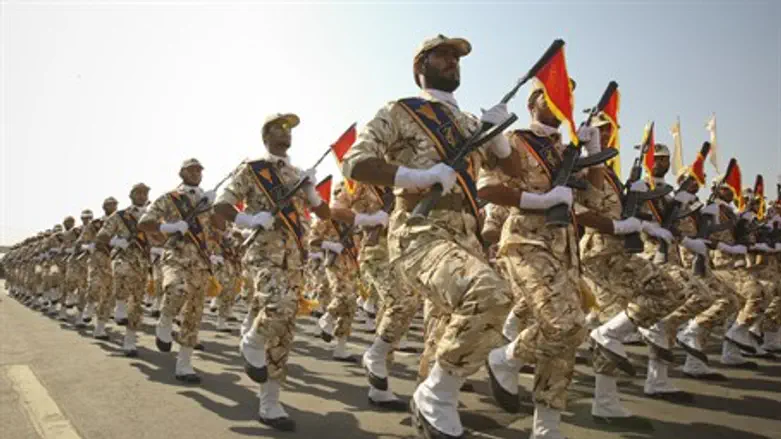 Iranian Revolutionary Guard soldiers (illustration)
Reuters
A senior Iranian military official on Wednesday made an outlandish accusation, claiming that Islamist rebel groups in Syria are "subgroups" of Israel - while failing to mention the fact that those same groups oppose Israel's very existence.
"Had it not been for Israel's intelligence backup for the terrorists, the terrorist groups in Syria would have surely been destroyed around two to three years ago," said General Hassan Rastegarpanah, Security Adviser of the Iranian Armed Forces' General Staff, reports Fars News Agency.
Making the claim of Israeli terror support ironic is the fact that Iran is the world's leading state sponsor of terrorism.
Regarding "backup," it is in fact Iran that has been intervening in Syria where it and its Lebanese terror proxy Hezbollah have been propping up Bashar al-Assad's regime, not only by providing support but through active engagement in the fighting. Likewise Russia has been propping up Assad with an airstrike campaign.
But according to Rastegarpanah it is Israel that is meddling in Syrian affairs, despite the Jewish state's open position of not taking sides and non-involvement aside from humanitarian aid and limited strikes to prevent the transfer of game-changing weapons to Hezbollah in Lebanon.
Going beyond accusing Israel of support, the Iranian general claimed that it is now common knowledge that the opposition forces clashing with Assad "are subgroups of Israel's intelligence bodies," in an apparent claim that the Syrian opposition is actually Israeli.
"The Zionists set up field hospitals for the terrorists and supply them with ammunition," claimed the general, saying that the opposition forces "easily commute" between Syria and Israel.
There has been no indication of, nor any logical reasoning for, Israel arming the Islamist rebel groups that are as hostile to the Jewish state as they are to Assad. However, Israel has provided medical services to Syrians wounded in the conflict, even including Islamist rebels.
In February the Syrian opposition requested that Israel set up field hospitals as part of a plan for protected areas where Israel could treat the wounded in Syria, rather than airlifting them to the Jewish state.
On the other side, Iran's allies Assad and Russia have been conducting ceaseless airstrikes including on internationally supported hospitals, thereby largely necessitating Israel's humanitarian involvement in Syria.