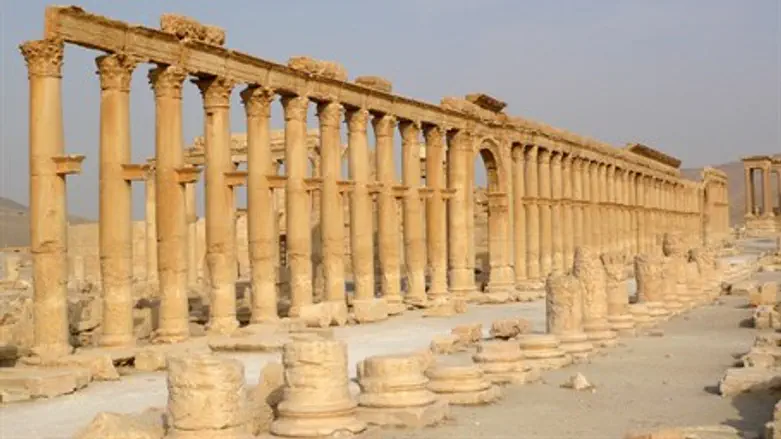 Ancient Palmyra
Reuters
Russian maestro Valery Gergiev on Thursday will conduct his orchestra in the ancient theater of Syria's ravaged Palmyra, only weeks after it was recaptured from the Islamic State's grip.
The concert will bring music to the ancient site that ISIS notoriously used to hold public executions after it overran Palmyra last year.
The Mariinsky orchestra will give the concert at 1400 GMT, the Mariinsky theater in Saint Petersburg, where Gergiev is director, said in a statement.
The orchestra "will give a concert 'Praying for Palmyra. Music brings ancient walls alive' on the site of the world-famous amphitheater of Palmyra in Syria," it said.
Syrian troops backed by Russian air strikes and special forces on the ground recaptured UNESCO world heritage site Palmyra from Islamic State group fighters in late March, delivering a major propaganda coup for both Damascus and Moscow. Recent leaked documents suggest the ISIS retreat was part of a covert agreement between the Assad regime and the jihadists.
Russian army sappers said last month that they had de-mined the ancient site - known as the "Pearl of the Desert" - where jihadist fighters blew up ancient temples and looted relics.
Gergiev is one of the world's best known conductors but has faced some criticism in the West for his strongly pro-Kremlin views, with his tours sometimes interrupted by protesters.
The concert in Palmyra will not be the first he has conducted in a place where the Russian military has carried out controversial operations.  
In 2008 the Ossetian-native conducted a concert in Tskhinvali, the main city in separatist Georgian region of South Ossetia that was heavily damaged in the short Russian-Georgian war that year.
Gergiev also conducted a charity concert in Tokyo for victims of the Fukushima tragedy in 2012 and led a charity concert tour to raise funds for victims of Russia's Beslan school massacre in 2004.  
Gergiev is often seen as an instrument of soft power of the Kremlin. He endorsed President Vladimir Putin in his election to the third term in 2012.
More recently he appeared in a state TV program praising cellist Sergei Roldugin, a friend of Putin who was named in the Panama Papers tax evasion scandal as owning a $2-billion (1.75-billion-euro) offshore empire.
Roldugin also works in the Mariinsky, but it is not clear whether he will be performing in Syria.
Kremlin spokesman Dmitry Peskov meanwhile told journalists that Gergiev's Syria concert "deserves to be valued most highly" as a gesture of solidarity and "refusal to accept violence and terrorism."  
AFP contributed this report.