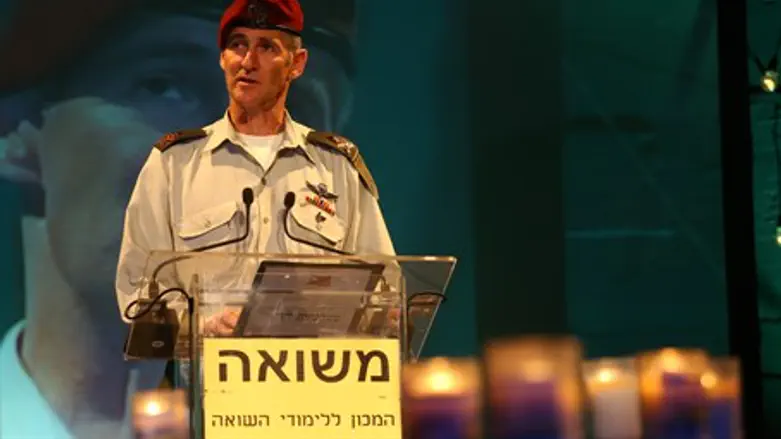 Deputy Chief of Staff Yair Golan
Asaf Shilo/Israel Sun
IDF Deputy Chief of Staff Yair Golan caused an uproar on Wednesday evening over comments he made in a speech during a Yom Hashoah ceremony at the Massuah Institute for Holocaust Studies.
Golan said in his remarks that he sees in Israel today evidence of the same processes that occurred in Europe before the Holocaust.
"If there is something that scares me about the memory of the Holocaust, it is the identification of horrifying processes that occurred in Europe in general and Germany in particular - 70, 80 and 90 years ago - and finding evidence of them here among us, today, in 2016," he said.
The Deputy Chief of Staff went on to say that Holocaust Memorial Day is intended for national soul-searching.
"On Yom Hashoah we should consider our ability to uproot from our midst signs of impatience, signs of violence, self-destruction and moral decline," said Golan, adding that the Holocaust "should lead us to a deeper reflection on the responsibility of leadership and about the quality of our society and must lead us to think thoroughly about how we, here and now, treat the stranger, the widow and the orphan, and those similar to them."
Golan's words caused a storm on social networks. MK Bezalel Smotrich (Jewish Home) tweeted, "What scares me are baseless and distorted comparisons in the name of the Holocaust, especially when they come from important people such as the Deputy Chief of Staff."
"What 'similar' phenomena does he recognizes among us?! Is anybody here setting up gas chambers and seeking to destroy another nation just because it's different?! Are you out of your mind?!" he asked.
Education Minister Naftali Bennett also criticized Golan and tweeted, "Before the Holocaust deniers flag those bad words. Before our soldiers will be compared to Nazis. The Deputy Chief of Staff made a mistake and must correct it immediately."
But opposition leader MK Yitzhak Herzog expressed support for Golan and tweeted, "The Deputy Chief of Staff is a brave commander. Those disturbed people who are about to start screaming at him need to know: That's how ethics and responsibility sound. We will not be afraid of shouting and of obscenities and will continue to back the IDF and its commanders. Always."