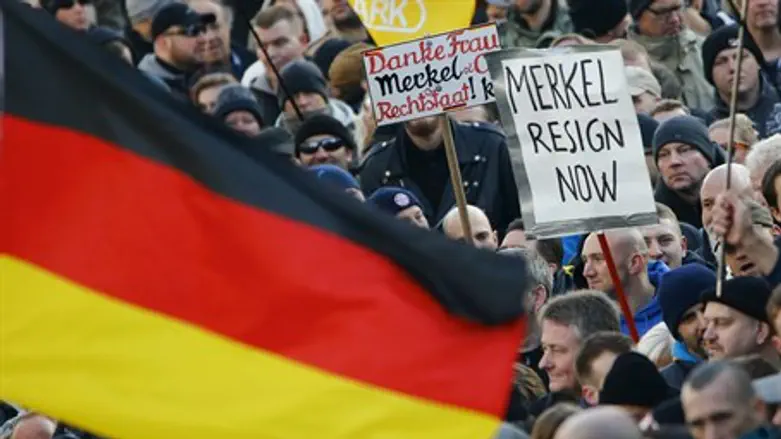 Protest calls for Merkel's resignation after Muslim immigrant sexual assaults (file)
Reuters
In a conference of the far-right Alternative for Germany (AfD) party on Sunday, members voted in an election manifesto declaring Islam as not compatible with Germany's constitution.
At the conference attended by 2,000 members a call to ban minarets on mosques as well as the burqa full body Islamic veil was also passed, reports Reuters.
AfD was founded three years ago, and has rapidly gained support as Europe is faced with a rising wave of Muslim immigration coupled with high-scale Islamist terror attacks and rising sexual crime perpetrated by the immigrants.
Roughly 1.1 million Muslim asylum seekers entered Germany in 2015, although in January the state admitted that it had lost track of around 600,000 of them. The Muslim immigrants have brought with them large-scale sexual assaults, which the German government has been criticized for largely ignoring.
AfD has no MPs in Germany's federal parliament, although it does have members in half of the country's 16 regional state assemblies, and polls show it enjoying 14% support ahead of the 2017 federal elections.
The conference on Sunday was part of a party congress, in which there were calls to take action against "Islamic symbols of power."
On the first day of the AfD conference Saturday, as many as 2,000 far-left protesters clashed with police outside the event; around 500 of them were briefly detained, and 10 police officers were lightly injured by the radical protesters.
"Islam is not a part of Germany," reads a chapter in the AfD manifesto regarding Muslims, which calls to ban minarets and the burqa.
"Islam is foreign to us and for that reason it cannot invoke the principle of religious freedom to the same degree as Christianity," said Hans-Thomas Tillschneider, a lawmaker for the party from the state of Saxony-Anhalt. His statement was met with strong applause.
Chancellor Angela Merkel has in the past rejected such statements by saying Germany's constitution guarantees freedom of religion for all, and she has even said Islam belongs to Germany.