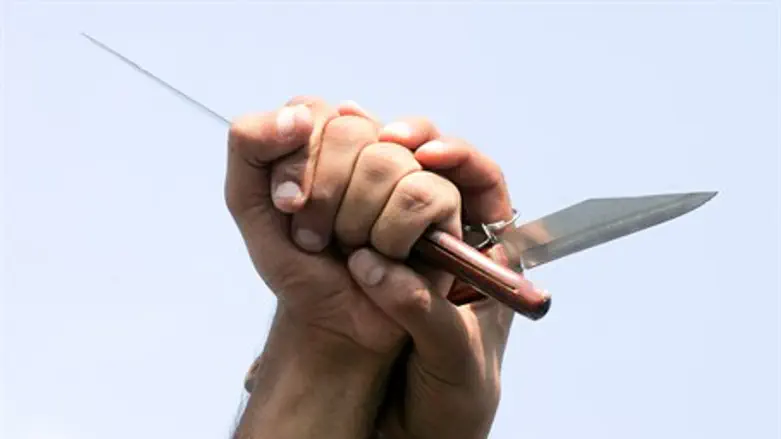 (Illustration)
Abed Rahim Khatib/Flash 90
The Hamas terrorist organization has published a periodic report on the Al-Quds Intifada, as it has termed the current Arab terror wave that has already claimed the lives of 34 victims since starting last September.
According to the Hamas statistics, 13 stabbing attacks plus an additional stabbing attempt took place in April, in addition to three shooting attacks, two car ramming attempts, and one bus bombing by a Hamas suicide bomber in Jerusalem in which 15 were wounded.
In all of the attacks combined a total of 26 Israelis were wounded, according to Hamas.
The rate of 14 stabbings or stabbing attempts during the course of the month works out to a frequency of one stabbing every two days, indicating that the terror wave is still going strong despite assessments that the rate has toned down.
Polls late last month showed that the vast majority of Palestinian Arabs strongly support the terror wave, indicating that the violence will not be dwindling anytime soon.
Last week, Shomron Brigade Commander Col. Shai Kalper warned that when the terror intensifies it will be even worse than the peak of the current wave, saying, "when the (terror) wave renews, it will jump up by several levels. It won't go back to 13-year-old kids with knives any more."
"The explosion on the bus in Jerusalem brought us all back to the start of the 2000s," added Kalper, noting on the attack which was the first bus bombing of the current terror wave, and referencing the 2000-2005 Second Intifada or Oslo War which left over 1,000 Israelis murdered.
According to Israeli Foreign Ministry statistics, in addition to the 34 victims who have been killed since the terror wave began last September 13, another 382 have been wounded in 144 stabbing attacks - which came in addition to 66 stabbing attempts - 85 shootings, and 42 car ramming attacks.