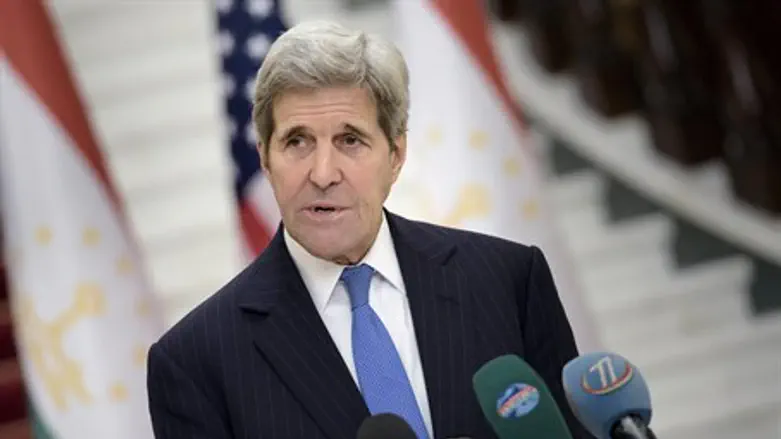 Secretary of State John Kerry
Reuters
Anti-Semitism is on the rise again, said Secretary of State John Kerry, and the US is reaching out to Jewish communities across Europe suffering from harassment and hate crimes.
Speaking on Tuesday at the James A. Baker III Institute for Public Policy at Rice University in Houston, Kerry addressed the issue of religious freedom worldwide, focusing on the plight of religious minorities around the globe.
In the course of his address, Kerry discussed the surge in anti-Semitism worldwide, emphasizing America's commitment to stamping out all forms of bigotry.
"It shouldn't be necessary, but silence has been misinterpreted too many times in the past to risk it again. Make no mistake: The United States remains unalterably opposed to bigotry in all forms, including anti-Semitism, and our commitment on this point, I am telling you, will never weaken, never waver, and never change."
Kerry noted that the rise of anti-Semitism was particularly prominent in Europe, and discussed the efforts of US Special Envoy to Monitor and Combat Anti-Semitism, Ira Forman, in Jewish communities suffering from regular harassment.
"[I]n Europe and elsewhere, anti-Semitism is again on the rise, as evidenced by a significant increase in hate crimes – many of them violent – and also frequent incidents of intimidation and examples of anti-Semitic graffiti and verbal abuse."
"Ira Forman, America's special envoy, who I mentioned earlier, has quietly reached out to a number of embattled Jewish communities. In one city in northern Europe, he met with the sole remaining rabbi – everybody else had been chased out – a man so frequently harassed by local immigrant youths that he feared to make the short trip home – from his home to the synagogue. In other urban centers, Ira has worked with our embassies to alert local authorities to the need of upgrading security at Jewish facilities."
"And 20 years ago this spring, Holocaust Museum Houston opened its doors with the goal of promoting awareness of the dangers of prejudice. That message matters because, as Rabbi Abraham Heschel warned, 'Speech has power and words do not fade. What starts as a sound ends as a deed.'"