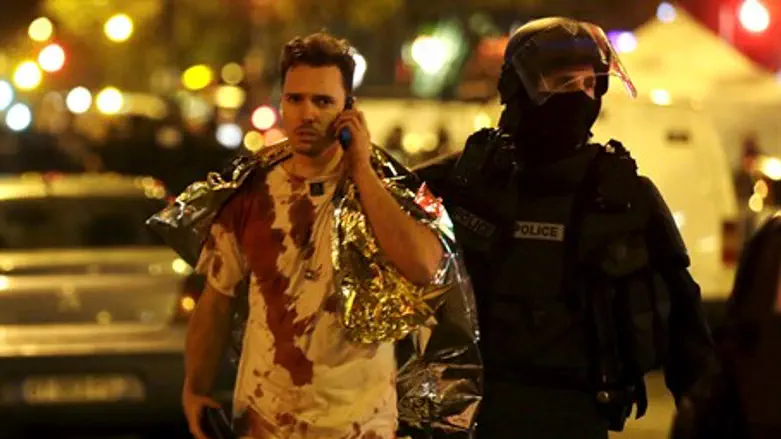 Police with victim outside Bataclan Theater in Paris
Reuters
A groundbreaking Israeli security system could have helped French authorities prevent the Paris massacre last November - but authorities balked at the deal under pressure from the anti-Israel boycott movement.
Speaking to Fox News, an Israeli counter-terrorism source with intimate knowledge of both the software involved and the deal itself said that after the Charlie Hebdo and Hyper Cacher attack the previous January an Israeli company offered to provide French authorities with special terrorist-tracking software, which could well have enabled them to flag the ISIS terrorist network operating under their noses.
But although the French were initially very keen on the idea, they ultimately rejected it, the source said.
"French authorities liked it, but the official came back and said there was a higher-level instruction not to buy Israeli technology," he told Fox News. "The discussion just stopped."
The technology enables intelligence agencies to "connect the dots", by aggregating and analyzing fragmented intelligence from multiple sources to provide a clear, comprehensive assessment. It has already been shared with the US and other Israeli allies, and helps to pinpoint terror suspects and other persons of interest to investigators.
The source claimed it could well have helped stop the Paris attacks, and potentially the more recent Brussels attacks as well, which were carried out by the same ISIS terror network.
"Government agencies struggling to foil terror attacks need access to technologies that allow them to connect their data fragments, making it possible to handle daily data challenges," the source explained. "With this system, all data can then be easily navigated, processed and represented by employing a set of powerful analytic tools and unique algorithms."
Although no reason was officially given for the unexplained rejection, he said he and others close to the subject believe political pressure - including from the so-called BDS movement - may have been behind it.
One Israeli security source claimed to Fox News that the EU in general had pivoted away from using Israeli security technology.
"The European Union has blamed Israel for everything that is happening in the Middle East and stopped cooperation in regards to military, law enforcement and intelligence training and banning university cooperation which [generates] much of the technology to fight terrorism," said Itamar Gelbman, a former IDF Special Forces who now works as a counter-terrorism consultant.