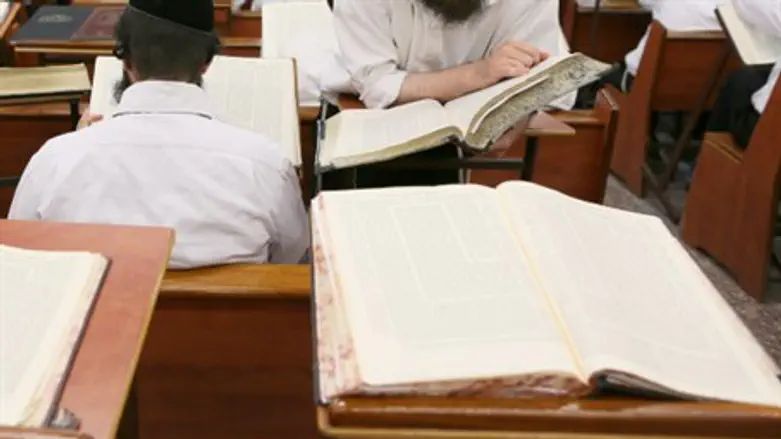 Talmud study (archive)
Nati Shohat/Flash 90
A first volume released under a groundbreaking project to translate the Talmud into Italian has become an unexpected bestseller, its publisher said on Friday.
A first print run of 2,000 copies sold out in three days and another 3,000 rushed into shops are already all reserved because of what publisher Shulim Vogelmann described as "extraordinary demand given the current state of the book market".
Vogelmann said he thought the 40-euro ($45) first taste of the sacred text was being bought overwhelmingly by non-Jews in a sign of mounting interest in Jewish culture in Italy.
It also reflected a broader curiosity about the contents of "a very old book full of history and mystery," that, thanks to its influence on Western literature and culture, was already "part of the collective imagination," the publisher told AFP.
"And then we are living in quite difficult times with less and less certainty, people are a bit disorientated with what is going on in the world.
"So when they see a book of wisdom and spirituality being published, many people see it as something that can give them strength."
The Talmud, which comprises both the Mishnah (Oral Law) and the Gemara, is one of the Jewish people's most sacred and central texts, forming a coded record of ancient rabbinic discussions pertaining to Jewish law, ethics, philosophy, customs and history, and written mostly in Aramaic.
The Babylonian Talmud was recorded in about the 6th century while the Jerusalem Talmud was recorded some 200 years earlier. There are several English translations of the monumental work.
The complete body of text runs to more than 2,700 double-sided pages, less than 10 percent of which have been covered by the 416-page Italian translation now in bookshops.
"I am 57 now, maybe when I'm 80 we will have the whole text in Italian," joked Vogelmann.
Organizers of Project Talmud hope to finish sooner than that and other volumes are already ready for publication.
Partly funded by the Italian state, the project to have an authorized Italian translation of the Talmud began five years ago and has involved the creation of a network of linguists, scholars and editors spread across the world who communicate through a bespoke software system.
"It is very complicated, it is not a normal translation. You need many people with knowledge of Hebrew and Aramaic and of course perfect Italian, and Italian Jewry is not a big community," said Vogelmann.
Italy has one of the oldest Jewish communities in Europe with sections of a population currently estimated at around 30,000 able to trace their roots back to Roman times.
AFP contributed to this report.
(Arutz Sheva's North American desk is keeping you updated until the start of Shabbat and the Passover holiday in New York. The time posted automatically on all Arutz Sheva articles, however, is Israeli time.)