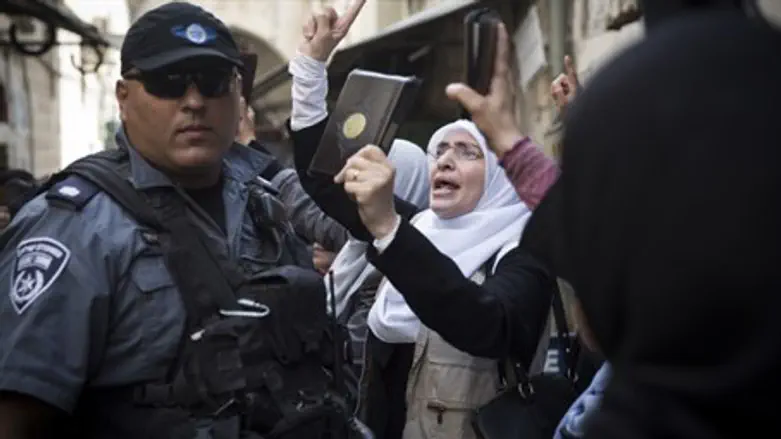 Temple Mount
Hadas Parush/Flash 90
The head of the IDF's Home Front Command, Yoel Strick, on Thursday night issued administrative orders against several nationalist activists including Raphael Morris, head of the Returning to the Mount organization, and another activist by the name of Yair Kahati, prohibiting them from entering Jerusalem until after the Passover holiday.
The orders were issued after security services said they obtained intelligence according to which the activists are planning to hold a Passover sacrifice ceremony on the Temple Mount.
Police and Israel Security Agency (Shin Bet) detectives waited for the activists outsides their homes on Thursday evening, and handed over the restraining orders.
Morris responded to the orders and said, "They will not be able to silence us and prevent us from our right and our duty to perform the Passover sacrifice at the Temple Mount. In the past year the Shin Bet has been investing all its energy in Temple Mount activists, and as they continue to focus on Temple Mount activists they give support to terror and encourage the Arab rioters on the Temple Mount."
Attorney Itamar Ben-Gvir, who is representing Returning to the Mount, said, "The Shin Bet and the police are again behaving in an anti-democratic way, and they do not realize that it is precisely such behavior that fans the flames and certainly does not break the spirit of the activists. The Passover sacrifice on the Temple Mount is a legitimate right and there is no legal reason to prevent such a step which is a fundamental right in the Jewish state."
Despite being the holiest site to Jews, the Temple Mount is administered by the Islamic Waqf authorities, as part of Israel's peace treaty with Jordan.
Under the Waqf's insistence, the Israeli police ban Jews and other non-Muslims from praying at the compound, and impose heavy restrictions on religious Jews even seeking to visit. The Israeli authorities defend such measures - panned as discriminatory by activists - citing Muslim threats of violence if Jews are permitted to pray, or even to visit in large groups.
An example of this was seen just this week, when an English-speaking religious Jew was arrested simply for reciting a verse of Torah at the holy site.