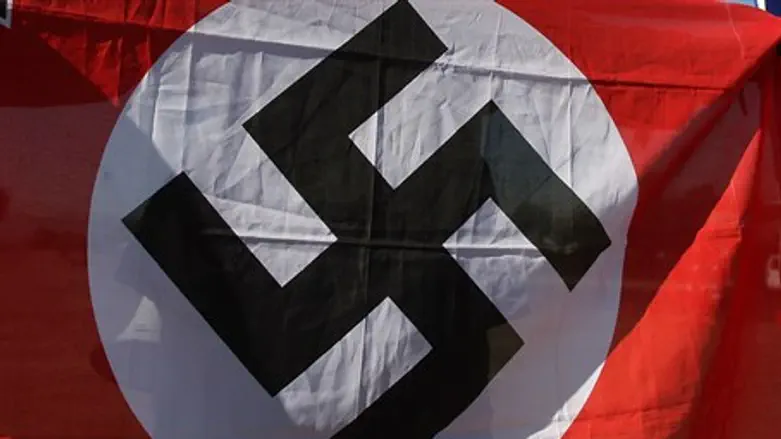 Swastika (illustration)
Thinkstock
A new study revealed that 35% of Hungarians hold "high or moderate" anti-Semitic views, and 41% of voters favoring the ruling party admit that they have a negative opinion of Jews.
The survey, which questioned 1,200 Hungarian citizens on their views toward Jews, was initiated by the Action and Protection Foundation, a Hungarian organization combating anti-Semitism in the country.
Twenty-three percent of respondents claimed to hold "extreme" anti-Semitic views towards Jews, while 12% claimed to hold "moderate" anti-Semitic views towards Jews.
When asked about their political affiliation, an alarming 59% of voters who support the extreme-right party Jobbik admitted to holding anti-Semitic beliefs. Meanwhile, 41% of voters who support the ruling Fids party also gave anti-Semitic views.
The survey further revealed Hungary's rising level of xenophobia: When asked which groups of foreigners they would least like to live near them, 71% answered "Arabs," 68% said "Gypsies," 57% said "homosexuals," and 31% said they do not wish to have Jewish neighbors.
Even in neighboring Poland there is a high level of anti-Semitism. A survey conducted by the National Institute for Public Opinion Research found that 37% of respondents said they "do not like Jews."
With that, 67% of Polish respondents claimed "Arabs and Gypsies" are their least favorite foreigners, while 50% said "Russians" were. All the data showed a rise in hatred of foreigners, most of whom have admitted that it is the result of the wave of Muslim immigration to Europe.