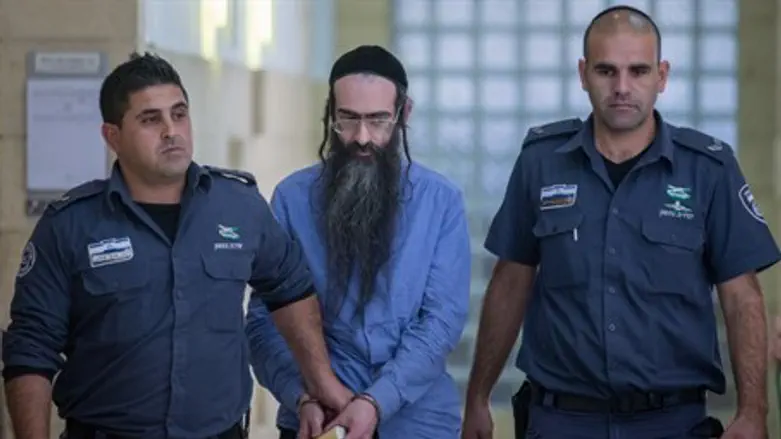 Yishai Schlissel after conviction, April 2016
Yonatan Sindel/Flash90
A Jerusalem district court found Yishai Schlissel guilty of murder on Tuesday in connection with the murder of a teenage girl in 2015.
Last July, Schlissel attacked the Jerusalem gay pride parade, stabbing seven participants. One of his victims, Shira Banki, died from her injuries three days after the attack.
Schlissel carried out the attack just three weeks after having been released from prison for a prior stabbing attack.
A father of four from the haredi town of Modi'in Illit, Schlissel had been convicted and sentenced to 12 years in prison for a similar attack on the 2005 Jerusalem gay pride parade. Three people were wounded in that attack.
Schlissel was released early, however, after a court reduced his sentence by two years.
During his prison sentence for the 2005 stabbing attacks, Schlissel divorced his wife.
Schlissel had refused the services of a state-appointed attorney, claiming that the court had no right to judge him.
The court found Schlissel guilty of murder as well as six counts of attempted murder. His sentence will be determined at a later date.