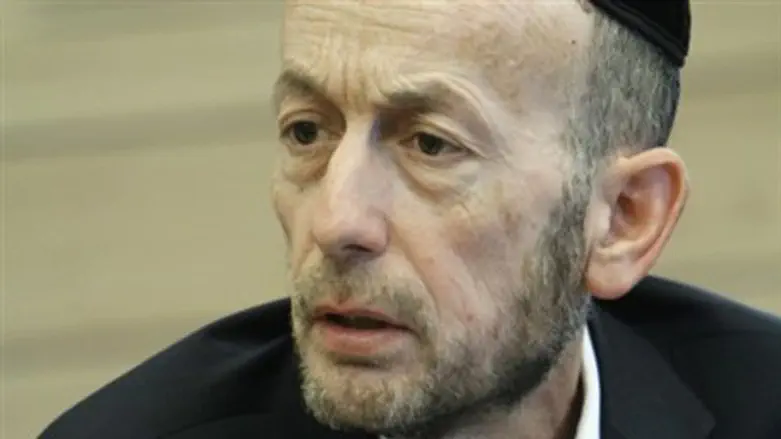 MK Uri Maklev
Flash 90
MKs from the Degel HaTorah faction of the UTJ party on Sunday blasted what they argued was a grossly unfair arrangement with the Agudah faction, threatening to bolt the joint list and run as an independent faction.
Speaking at a panel discussion Sunday night hosted by the Yad Al HaLev organization, MK Uri Maklev (UTJ) expressed the growing dissatisfaction within Degel HaTorah over the current arrangement dividing the Knesset delegation of the United Torah Judaism party.
Since 1988, two separate political parties have represented the Ashkenazi haredi public in the Knesset: the predominantly hassidic Agudah faction, and the non-hassidic Degel HaTorah.
As the Knesset's minimum electoral threshold has risen over the years, the two factions were forced to run together on a joint list, the United Torah Judaism party.
Recently, however, the Degel faction has expressed frustration with the lopsided allotment of Knesset members. In 2015 the UTJ list won six seats, with four going to Agudah and two to Degel.
While political necessity has held the two factions together for decades, the arrangement is very much a marriage of convenience that at times has tested the patience of both sides.
Frustrations boiled over during Ariel Sharon's second term, leading to a split that dissolved the UTJ party. But the two resolved their differences ahead of the 2006 election.
This time, however, Degel MKs claim they are prepared to run separately, ending their more than 20 years of cooperation with Agudah.
Speaking on Sunday night, Maklev claimed that "We in Degel aren't afraid of running on our own, this isn't just some threat."
Maklev even laid out some of the possibilities the faction was considering, claiming that "all options are on the table."
As Israeli election law currently stands, Degel would have little chance of making a successful independent bid. Since 2015, the minimum threshold for entering the Knesset is 3.25% of the vote, or nearly four seats' worth of votes.
But Maklev suggested that the faction was considering pushing for a lower electoral threshold, which would allow Degel to enter the Knesset on its own. He even suggested a possible unity ticket with the Sephardic Shas haredi party, saying "it's not unrealistic that we would run together with Shas."
Two weeks ago Degel party leaders, including MK Moshe Gafni, suggested a campaign to measure the faction's support in an effort to alter Degel's arrangement with Agudah, or if necessary, to weigh the feasibility of an independent run.