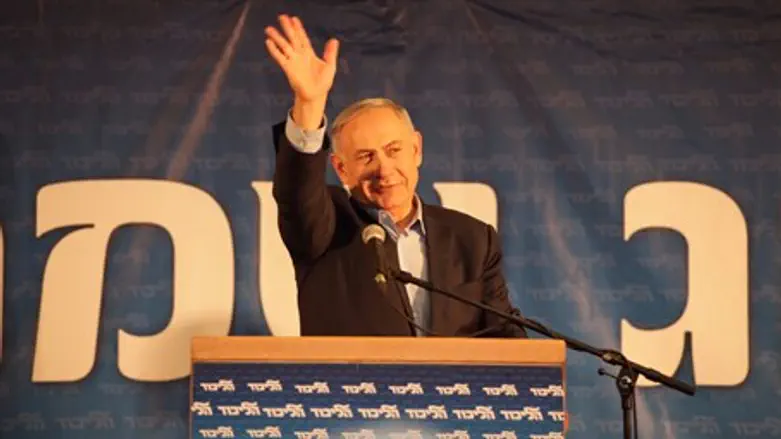 Prime Minister Binyamin Netanyahu
Spokesperson
Prime Minister Binyamin Netanyahu and his wife Sara on Sunday evening attended a toast with Likud activists in honor of the Passover holiday.
The event, held at Kfar Maccabiah, was also attended by members of Knesset from the Likud alongside Holocaust survivors who were invited to the event as guests of the party.
"I come here with the ministers of the government following the special cabinet meeting we held in the Golan Heights, marking the first anniversary of the establishment of the government. This is the first gathering of the government of Israel on the Golan Heights in the last fifty years. I said that the Golan Heights will remain forever under Israeli sovereignty," Netanyahu said, in a reference to the statement he made earlier Sunday on the Golan Heights.
"We look around us, and we see the turmoil in the entire Middle East, hundreds of thousands being slaughtered and millions are on the move, fleeing for their lives. States are collapsing, the flames of Islamic extremism are engulfing governments and countries, and here there is one country which is like an island of stability, an island of sanity, an island of progress, an island of confidence - this country is the state of Israel under the leadership of the Likud government," he continued.
Netanyahu stressed that Israel is fighting Arab terror with unprecedented measures, saying, "We go into places that we have not entered before and we maintain a simple principle: the IDF will go anywhere it needs to in order to fight terrorism. No place is immune."
"We are fighting inciters and centers of incitement, all the factors that assist terrorism, and we are seeing that as a result of the determined actions of the IDF, the Israel Police and the Shin Bet, as well as the policy of the Israeli government led by the Likud, we see a 'gradual decline', but we do not delude ourselves," he continued.
"This can be reversed - we know we need to continue our aggressive policy with your help and your support," the Prime Minister said.
Netanyahu concluded his address by saying, "During the upcoming holiday of Passover, as we all sit at the holiday table, we will celebrate our freedom, the strength of Israel, and our ability to defend ourselves on our own against any foe. Tonight we raise a glass in honor of the Likud, in honor of the State of Israel, and especially and first and foremost - in honor of our soldiers, policemen and policewomen, who protect us with their bodies."