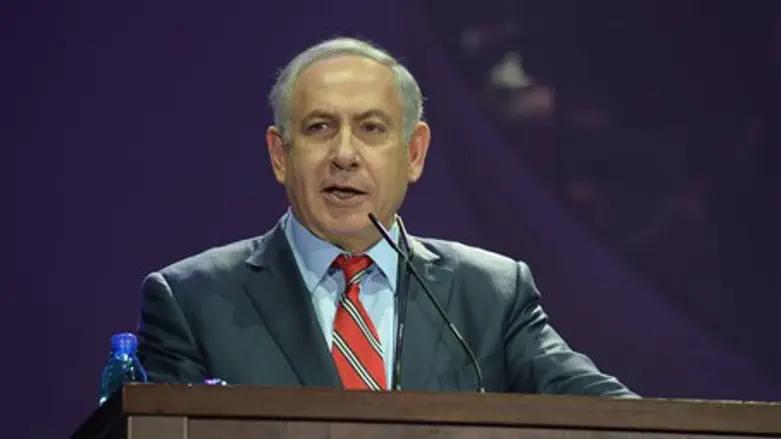 Prime Minister Binyamin Netanyahu
Amos Ben Gershom/GPO
Prime Minister Binyamin Netanyahu is expected to announce during the weekly cabinet meeting on Sunday that the Golan Heights will remain in Israeli hands.
The weekly meeting will take place at the Golan, in order to make clear to the international community that it is a strategically important region for Israel.
Netanyahu will open the meeting with a statement that will say that the Golan Heights is not on the agenda of any possible international discussions, and the region will not be discussed as part of any future agreement with Syria, if one is signed.
The statement will come a few days before Netanyahu makes a short visit to Russia, where he is expected to meet President Vladimir Putin and discuss what is happening along the Syrian border.
This past week Netanyahu took a tour of the Golan Heights to see a drill by the reserve soldiers of the Paratroopers Brigade, and during his visit he stopped at an outlook overlooking Syria.
The Prime Minister praised the commanders for maintaining stability in the front, while noting the various security threats facing the Jewish state.
"We have Daesh (Islamic State) on the other side of the fences here (in Syria), Hezbollah on the other sides of the fences here and there (in Syria and Lebanon), we have Hamas and Islamic Jihad in Gaza and global jihad and Daesh in Sinai," he said.
"We are proud of how in the entire stormy, raging and rambunctious Middle East, we succeeded in preserving relative quiet in the state of Israel and relative security. We are acting when we need to act, including here, beyond the border, in dozens of strikes, to prevent Hezbollah from [acquiring] game-changing weapons."