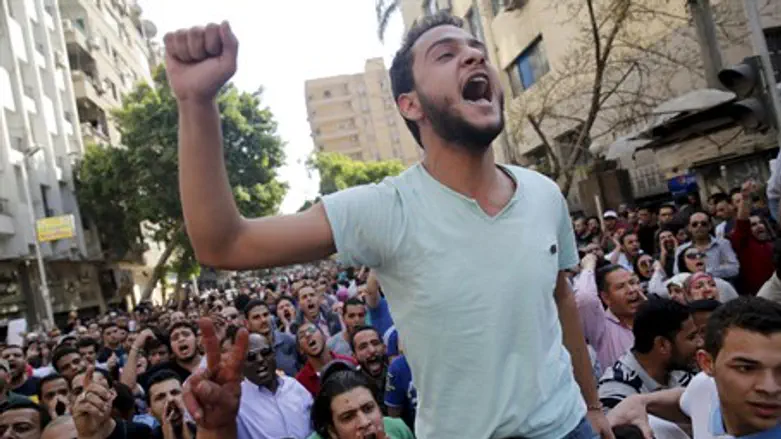 Egyptian protesters shout slogans against President Abdel Fattah al-Sisi and the governmen
Reuters
Thousands of Egyptians angered by President Abdel Fattah al-Sisi's decision to hand over two islands to Saudi Arabia held a protest in Cairo on Friday, in which they called for the government to fall, Reuters reported.
Egyptian security forces detained about 50 protesters, according to two security officials. Police surrounded crowds at the press syndicate, site of the biggest demonstration, according to Reuters.
Sisi's government prompted an outcry in Egyptian newspapers and on social media last week when it announced a maritime demarcation accord that put the uninhabited Red Sea islands of Tiran and Sanafir in Saudi waters.
"The people want the downfall of the regime!" protesters cried outside the Cairo press syndicate, using the signature chant of the 2011 revolt against then president Hosni Mubarak, who later stepped down.
They also chanted: "Sisi - Mubarak", "We don't want you, leave" and "We own the land and you are agents who sold our land." In other parts of Cairo, police fired tear gas at protesters, security sources told Reuters.
On Wednesday, Sisi defended the transfer of sovereignty of the two strategic islands, saying Egypt did not give up territory but rather "restored" the rights of Saudi Arabia to the islands.
Saudi and Egyptian officials say the islands belong to the kingdom across the Red Sea and were only under Egyptian control because Riyadh had asked Cairo in 1950 to protect them.
There are no signs that Sisi's rule is under immediate threat despite the protests, noted Reuters, but even local media, which once suggested he could do no wrong, have been attacking the president.
The two islands, Sanafir and Tiran, are located off the coast of Eilat, Israel's southernmost port city. The two islands provide Israel's only access to the port of Aqaba. Egyptian blockage of the passage in 1967 was one of the reasons Israel was forced to launch the Six Day War.
Prior to the Six Day War, Saudi Arabia asked Egypt to protect the islands from Israel way back in 1950. Under the 1979 peace treaty with Egypt, Israel handed the islands back to Egypt.
On Monday night Haaretz reported that Egypt informed Israel in advance of the sovereignty transfer, and in response Israel made clear that it doesn't oppose the move as long as Israeli ships are guaranteed freedom of navigation in the area, and as long the rest of the commitments Egypt made as part of the peace agreement with Israel are honored.
Egypt confirmed to Israel and the United States that the treaty will indeed be honored, and the Saudi government later made a public announcement to that effect. 
(Arutz Sheva's North American desk is keeping you updated until the start of Shabbat in New York. The time posted automatically on all Arutz Sheva articles, however, is Israeli time.)