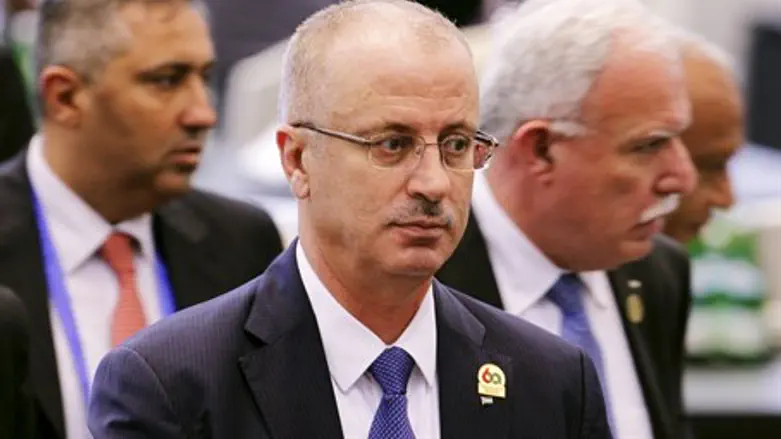 Rami Hamadallah
Reuters
Palestinian and international officials warned Wednesday of a potential slowdown in the reconstruction of Gaza, with only 40 percent of the money pledged after a 2014 war with Israel delivered, AFP reported.
The Palestinian Authority's (PA) prime minister Rami Hamdallah said they were able to repair more than 100,000 partially damaged homes, while giving compensation to businesses damaged in the 2014 war between Israel and Hamas and other Palestinian factions.
But he warned that funding was drying up.
"We call upon you to honor your obligations and effectively contribute to saving Gaza," he told a conference of donors, United Nations officials and others in the city of Ramallah.
In October 2014, following the 50-day war, international donors pledged $3.5 billion to rebuild the Gaza Strip.
But funding has been slow, with only around 40 percent of the money delivered, according to Palestinian officials, who cited World Bank figures.
Gaza remains under an Israeli blockade, which limits the import and export of goods and restricts many basic materials, such as wood and concrete, due to the fact that Hamas uses these materials to rebuild its terror tunnels meant to attack from within Israeli territory.
The UN's special coordinator for the Middle East peace process, Nickolay Mladenov, said at Wednesday's conference that "reconstruction is progressing and it is progressing because ofthe excellent efforts of both the government of Palestine and international community".
"But the difficulties in Gaza remain," he added.
Bashir Rayyes, the Palestinian Authority's coordinator for Gaza reconstruction, said reconstruction was suffering from shortages.
"The big part of the third (of funds delivered) went to humanitarian assistance and feeding people and what have you. So, what we really have for the Gaza reconstruction is less than $400 million, way less than $400 million, and that in itself is a very big problem."
"(The $400 million) only brings Gaza back to its previous misery in 2014, but that's not enough."
He said at the current rate, the reconstruction efforts could continue until as late as 2020.
UNRWA has estimated in the past that the homes of more than 96,000 Gazans were destroyed or damaged during the conflict. Despite the Palestinians' blaming of Israel, the high level of destruction is due to the fact that Hamas heavily entrenched its terrorist network in the civilian infrastructure of Gaza.
Hamas has warned that the coastal territory could become a breeding ground for extremism unless promised reconstruction is accelerated.