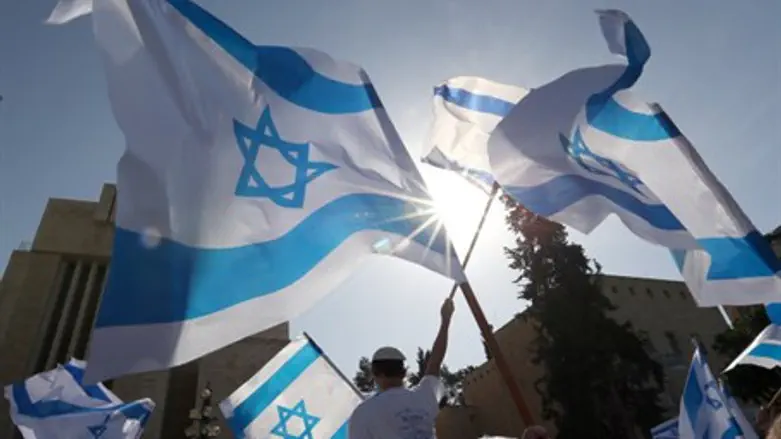 Israeli flags (illustration)
Flash 90
A new poll has found that youth in Israel are increasingly right-wing in their political opinions, and are overwhelmingly Zionist and loyal to their country.
The survey, conducted by the New Wave Research institute for Israel Hayom and published in part on Wednesday, asked 11th and 12th graders to define their political position.
A full 59% defined themselves as right-wing, while another 23% said they were centrist, and only 13% identified as leftist. Another 5% said they have no position.
A whopping 82% said there is no chance of reaching a deal of some sort with the Palestinian Arabs, indicating their disillusionment with the peace process that has regularly led to waves of Arab terrorism.
When asked if Arab citizens of Israel need representation in the Knesset, 48% said they do not, while 52% said they do.
In a question relating to the recent case of a soldier who shot a wounded Arab terrorist, the students were asked if they thought a soldier should be put on trial for shooting a neutralized terrorist.
A resounding 60% said such a soldier should not be tried, while 30% supported the trial and 10% said they did not know.
Zionism appears to be strong according to the poll, which found that 89% said they see their future in Israel, and 85% said they love the state.
Of the high-schoolers 88% said they are preparing to enlist in the IDF, with over half saying there is no more ethical army in the world, and 65% believe in the sentence "it is good to die for our country," which is a quote from Joseph Trumpeldor.
Another finding was that 75% of the students appreciate or greatly appreciate their teachers.