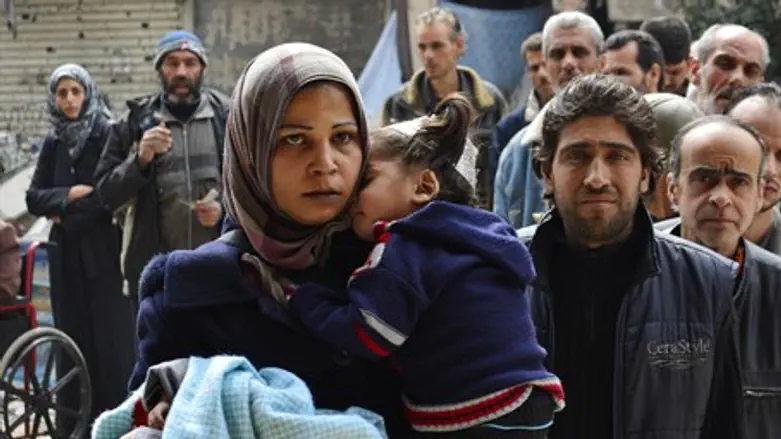 Yarmouk residents queue to receive humanitarian aid
Reuters
The Islamic State terror group (ISIS) took control on Tuesday of most of a Palestinian refugee camp in southern Damascus, seizing territory held by Syria's Al-Qaeda affiliate, a Palestinian official told AFP.
"(ISIS) began attacking positions of its former ally Al-Nusra and took control of 60 percent of the camp," the Palestine Liberation Organisation chief in Damascus, Anwar Abdel Hadi, said.  
"Some Nusra fighters joined (ISIS) ranks. ISIS then besieged the last remaining Nusra positions and demanded that they leave the camp," he said, adding that at least three civilians were killed in the clashes.
The Syrian Observatory for Human Rights - a Britain-based monitoring group - confirmed the fighting.
Once a thriving district that was home to some 160,000 Syrians and Palestinians, Yarmuk has been devastated by violence since late 2012.
The Syrian army imposed a tight siege on the camp that reportedly led to deaths because of shortages of food and medicines.
ISIS seized parts of Yarmuk in April 2015, and has fought alongside Nusra battalions inside the camp, although Palestinian factions and pro-government forces pushed the jihadists back in places.
Amaq, a news agency affiliated with ISIS, said the group was now in command of most of the camp.
According to the Palestinian official, some 6,000 civilians remain in Yarmuk alongside around 3,000 IS fighters.
AFP contributed this report.