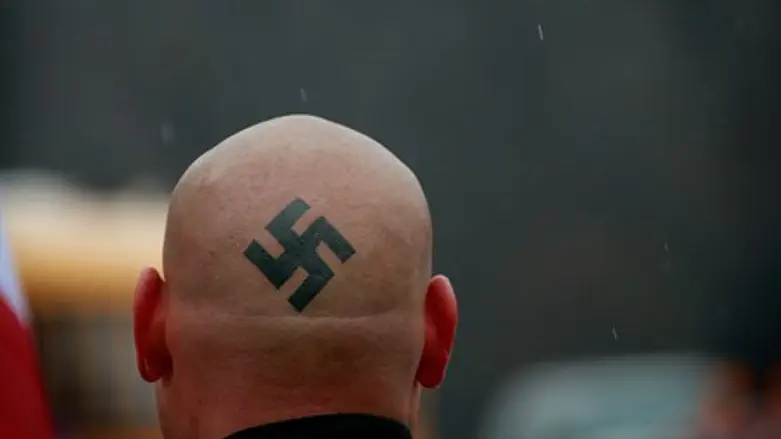 Neo-Nazi (file)
Thinkstock
Fringe nationalist groups are resurgent in Germany in the wake of the ongoing refugee migrant crisis facing Europe.
But while the migrants in question are predominantly Muslim and virtually all Arab, Neo-Nazis and other radical rightist movements in Germany aren't limiting their rhetoric to immigrants.
Tried and true staples of German radical nationalists have also been on the rise, including defamation of Jews, rejection of the United States, and allegations of a Zionist "capitalist conspiracy".
Last Saturday, activists affiliated with the PEGIDA nationalist movement held a demonstration in Berlin, ostensibly to protest the movement of Middle Eastern migrants into Germany.
Yet according to a report by Blick nach Rechts, the slogans and signs at the rally largely targeted Jews, with chants of "Never again Israel".
Demonstrators held up large banners reading "Blood and oil, the face of USrael", showing a vampire-like figure with a Star of David and US dollar sign in place of fangs. Witnesses claimed demonstrators called counter-protesters "hook nosed".
A separate rally on Saturday by the far-right National Democratic Party held in Essen featured some of the same slogans.
Participants chanted "Never again Israel", as well as "Jewish pigs, Jewish pigs", and "You can't ban anti-Semites".
Last month, Spanish tourists visiting the Gleis 17 memorial in Berlin, which commemorates the deportation of Jews from station number 17 during the Holocaust, were accosted by a local hurling pro-Nazi slogans and hateful rhetoric.
According to the RIAS anti-Semitism watchdog organization, the man complained to the tourists about the "dirty Jew monuments" polluting Berlin.
The man also reportedly spat at the tourists and claimed with pride that his mother worked in a concentration camp.