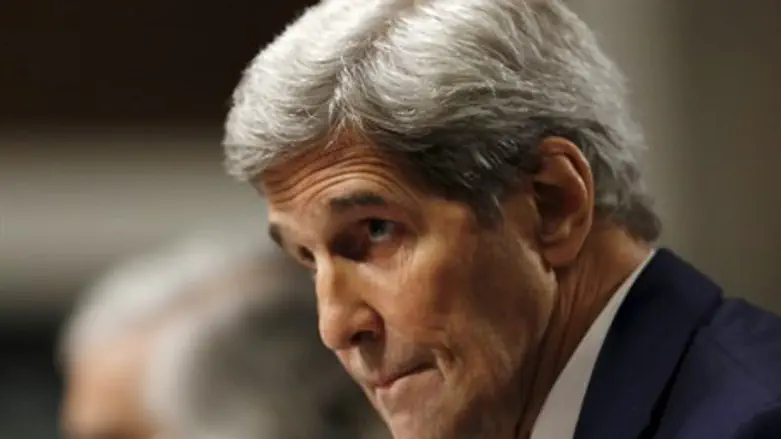 John Kerry
Reuters
Senator Patrick Leahy (D-VT), together with ten House members, has asked the US State Department to investigate claims that Israel has committed "gross violations of human rights," and depending on the results to cut military aid to the Jewish state.
The letter addressed to Secretary of State John Kerry was dated February 17, and was published by Politico on Tuesday night after the news site received it from "an organization that provided input for it."
Leahy's letter targets both Israel and Egypt, and is significant because the senator authored a law conditioning US military aid to foreign countries based on whether their forces commit abuses.
The letter lists claims that Israel's army has conducted "extrajudicial killings," an accusation frequently aired by the Palestinian Authority (PA) to delegitimize the self-defense of citizens and soldiers who have shot attacking Arab terrorists during the recent terror wave raging since last September.
It also accuses Egyptian security forces of extrajudicial killings and forced disappearances, in addition to the crackdown on protests at Rab'aa Square in 2013 in which nearly 1,000 people died.
"In light of these reports we request that you act promptly to determine their credibility and whether they trigger the Leahy Law and, if so, take appropriate action called for under the law," reads the letter, noting the law to condition military aid.
That law bans aid to particular military units that commit human rights violations, but doesn't necessarily affect other units or the total amount of aid.
An added edge seen in the letter is the fact that despite being sent to Kerry over a month ago, it was released publicly only now, days after an IDF soldier last Thursday was filmed shooting a wounded Arab terrorist in Hevron, again sparking claims of "extrajudicial executions."
The soldier has argued he shot the terrorist - who minutes earlier with an accomplice stabbed a soldier - over concerns he was moving to detonate a bomb belt that was thought to be hidden under his unseasonable coat. That version of events was vindicated by a Magen David Adom (MDA) investigative committee.
Leahy's letter also criticizes America's political relationship with Israel and Egypt, implying US officials may have ignored rights violations in the Jewish state and the Nile state.
"According to information we have received, the manner in which US military assistance has been provided to Israel and Egypt, since the Camp David Accords, including the delivery of assistance at the military service level, has created a unique situation that has hindered implementation of normal mechanisms for monitoring the use of such assistance," reads the letter.