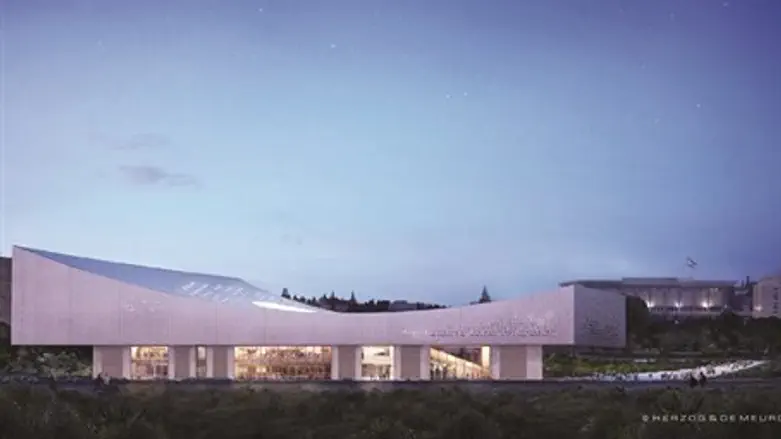 Model of the new building
Photo: Courtesy of Herzog and de Meuron
The cornerstone laying ceremony at the new National Library will take place next Tuesday, yet design images were released to the public on Monday.
Next week's festive ceremony is to include dignified guests including the President, Prime Minister, Speaker of the Knesset, Education Minister, Jerusalem Minister, Jewish Agency chairman, Lord Rothschild, the Gottesman family and friends of the library from Israel and around the world.
Construction of the library is estimated to last four years with plans to open its doors to the public in 2020.
The new library will be erected in Jerusalem's Kiryat HaLeom (National Quarter) on a plot located at the intersection of Kaplan Street and Derech Rupin Road, opposite the Knesset and next door to the Israel Museum.
The building is designed by the Swiss architectural firm Herzog and de Meuron utilizing Amir Mann / Ami Shinar Architects & planners ltd. as local architects.
The built area will consist of approximately 34,000 square meters (365,000 square feet) – six floors totaling 15,000 square meters (161,000 square feet) above ground and four floors totaling 19,000 square meters (204,000 square feet) primarily for stacks and parking below ground.
​Funding for the renewal project is being provided by the Government of Israel, Yad Hanadiv, a philanthropic foundation of the Rothschild family, and by the David and Ruth Gottesman family of New York.
Model of the new building
Photo: Courtesy of Herzog and de Meuron
The National Library of Israel, established in 1892, will evolve during subsequent design stages. The new building will be a central element of the Library's renewal as a 21st century creative and dynamic center for onsite and online activities, designed to activate and inculcate the irreducible value of pluralistic, tolerant and enlightened modes of public life.
​David Blumberg, Chair of the Library said: "The new building is the jewel in the crown of the National Library's renewal enterprise, which is moving forward full-speed. It will provide the Library with a stately and fitting home that will contribute to the enhancement of its activities in every sphere in which it has begun to operate over the past decade.
"These professional realms encompass research, preservation and provision of access to Jewish and Israeli culture using state of the art technologies. The new building will reflect the Library's role as a leading national institution in the collection and preservation of the treasures of the Jewish people in Israel and throughout the world."
Model of the new building
Photo: Courtesy of Herzog and de Meuron