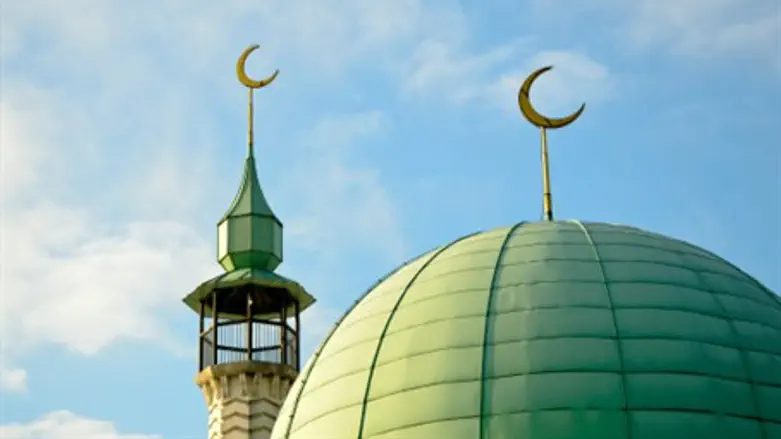 Mosque (illustration)
Thinkstock
A Jerusalem court has convicted Omar Abu Sa'ara of incitement to violence and incitement to racism.
According to the indictment, Abu Sa'ara made his statements in the al-Kabali Mosque on the Temple Mount, in a speech titled "The Jews' plan according to the Quran." During his talk, the crowd shouted its encouragement.
All of this was filmed and uploaded to the YouTube channel Aqsa Call.
Among other statements, Abu Sa'ara said:
"I say this clearly to the Jews: it's time to slaughter you. It's time to fight you. It's time to kill you. And we will be able to do so, with God's help. We, and the Muslims, and the true believers, and the Islamic caliphate soldiers who will come to this country to free it from your filth. This day is approaching...
We are waiting for the day and the moment to arrive in which it will be time to slaughter you... So do what you want now, you are winning the battle now and you are stronger now. Kill and slaughter. The stones and the trees have made their complaints against you, and so have people... Don't leave a single grain of sympathy in our hearts for you Jews because, when the day comes, the day to slaughter you, we will slaughter you and we will not have mercy.
Hasten this day God. Hasten the Jews' day God. Hasten the day of their killing. Hasten the day of fighting them. Hasten the day of their slaughter. Hasten the day in which we will cleanse al-Aqsa from their filth. Hasten the day when the Islamic caliphate will raise and the day of recognizing the Muslim caliphate. God be with the Mujahideen everywhere.
They are a nation that murders prophets. Abu Kayem says that they murdered 70 prophets in a single day. The Jews are a nation that God made from monkeys and pigs."
Court ruling
The court ruling noted that, "Now, at the end of the verdict, we will set aside the law books and look for a moment at the reality of our lives. Jews and Arabs live together in the State of Israel. This is a fact that is not in dispute and which, it seems, won't change in the near future."
Judge Shmuel Herbst concluded by saying, "I look at the defendant and see a person. It would be very unfortunate if he looks at me and sees a monkey or pig that should be destroyed without mercy."
This is the second such incident in the past two weeks. Temple Mount preacher Khaled al-Mughrabi similarly called for murdering Jews and was sentenced to 11 months in jail.