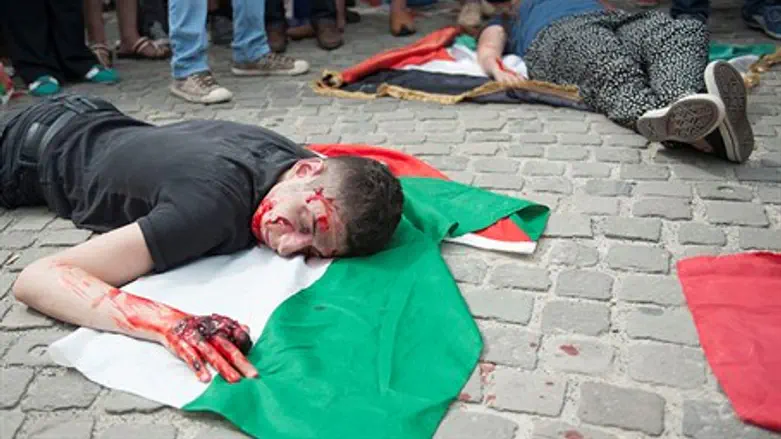 Palestinian supporters demonstrate in Brussels (illustration)
Flash 90
Although the Islamic State (ISIS) jihadist group announced that they orchestrated the terror attacks in Brussels last week, Palestinian Authority (PA) Security Forces Spokesman Adnan Al-Damiri has suggested that Israel was in fact behind the attacks.
According to the Palestinian Media Watch (PMW), Al-Damiri questioned whether the attacks by ISIS were just "a coincidence" in light of European support for "Palestine" and the Boycott, Divestment and Sanctions (BDS) movement.
"Question: How come Europe has turned into the scene of terror attacks and murder of innocent civilians after the majority of European parliaments have recognized the State of Palestine, and after the expansion of the European boycott of products made in Israeli settlements? Is it possible that the timing of the targeting (of Europe) by ISIS and its offshoots is innocent and a coincidence? And why specifically Europe now that the European popular and official support for Palestine is growing? Help me understand and answer," Al-Damiri posted on his Facebook page.
Immediately following the attacks in Brussels, Al-Damiri stated that the US and Europe brought the terror on themselves and that "those who prepare the poison will taste it themselves, and today Europe is having a taste of what it prepared with its own hands."
The PA often libels Israel and the United States as having created ISIS and claim they are the masterminds managing the terror organization and its attacks.
PMW further uncovered similar speculation by an official PA daily that claimed that Israel is the true perpetrator of the terror attacks in Europe. Member of the Fatah Revolutionary Council Muwaffaq Matar speculated why attacks in Paris and Brussels occurred at the same time as Europe's increased support for the Palestinians, indicating that it is logical that Israel was behind the attacks.
"We do not want to throw accusations, but why did the crimes and terrorist massacres of ISIS in France and Brussels coincide with the European Union's first attempt to free itself of the Israeli extortion and of the Jewish persecution in Europe complex, and (coincide with) European members of parliament's support of the Palestinian right (to statehood)?" posted the official PA daily Al-Hayat Al-Jadida.
Matar specifically mentioned France's leading role in pressuring Israel, and the fact that Brussels and the EU has been heading the boycott and labeling of Israeli products made in settlements. "How can we not allow ourselves to consider this background as the motive of those affected (i.e., Israel) by the new Europe to strike at its heart (i.e., Brussels)," he asked.
Similarly, Fatah accused Israel of being behind the ISIS terror attacks in Paris in November 2015.