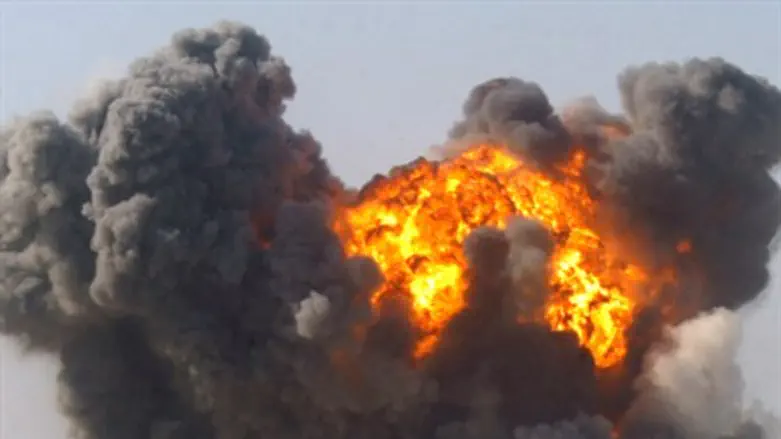 Explosion (illustration)
Flash 90
The two terrorist brothers who conducted joint suicide bombings on Brussels' Zaventem Airport this Tuesday apparently planned to bomb a Belgian nuclear plant and cause a nuclear explosion, according to reports Thursday.
The Belgian La Derniere Heure revealed that Ibrahim and Khalid El Bakraoui had filmed the chief of the Belgian nuclear program with cameras hidden in bushes outside of his house in Flanders. The nuclear chief had been tracked and followed by the terrorists for a long time.
Police back in December seized the footage during a raid shortly after the Islamic State (ISIS) Paris attacks in which 130 people were murdered. The ten hours or so of video was found in the apartment of Mohammed Bakkali, another suspect in the same ISIS terror cell. 
Apparently the terrorists planned to kidnap the nuclear chief and use him to gain entrance to the country's nuclear power plants, where they likely intended to detonate the reactors and cause a nuclear explosion.
Illustrating the high security concerns, armed forces immediately tightened security at Belgium's nuclear power plants after Tuesday's attacks on the airport and a metro station in Brussels, which left 34 murdered and around 200 wounded.
A "testament" of one of the suicide bombers has been found in the "Recycling Bin" of his computer by investigators, and in it he said the attack had to be done "in haste."
It said that "if they drag on, they may finish next to him in a cell," possibly a reference to terrorist Salah Abdeslam who was captured in Brussels' Molenbeek neighborhood last Friday. Abdeslam was a key figure in the Paris bombings.
From the document, it would appear the ISIS cell intended to strike the nuclear plants, but decided to forego those plans due to Abdeslam's capture.
Belgium operates seven nuclear reactors, which generate roughly half of its electricity.