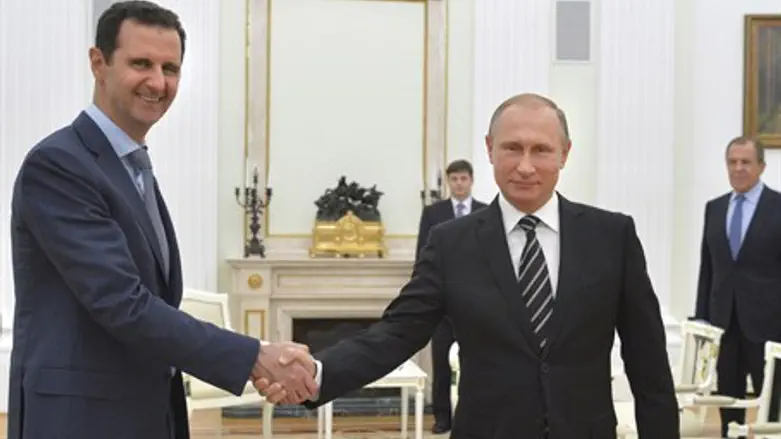 Bashar al-Assad visits Vladimir Putin
Reuters
No foreign power should be permitted to interfere in the ongoing Syrian peace talks in Geneva, the lead government negotiator said, denying that high-level US-Russian meetings in Moscow will impact the process.
"When we say that the dialogue must be between Syrians, without outside intervention, this also applies to the Russians and Americans," Bashar Jaafari told AFP in an interview. Ironically Jaafari last week ruled out talking with his Syrian opposition counterpart until he "shaves off his beard."
His comments came as US Secretary of State John Kerry was heading to Moscow for talks with President Vladimir Putin and Foreign Minister Sergei Lavrov, hoping to build momentum for the Syrian peace drive.
Negotiations in Geneva, entering their 10th day Wednesday, were rattled last week by Russia's surprise decision to withdraw most of its troops from Syria, a move experts have said could help the peace drive by weakening Assad's position.
But Jaafari, who serves as Syria's ambassador to the UN in New York and as the lead government negotiator in the talks, said that believing that Moscow can pressure its historic ally in Damascus amounted to a "misreading" of the situation.
"If any pressure should be applied, we hope it will be applied by the United States on the armed groups sponsored by Qatar, Turkey and Saudi Arabia to help move the discussions forward," he said.
The meetings in Moscow on Thursday are expected among other things to touch on a partial, fragile ceasefire declared on February 27, which has raised hopes for an end to the five-year Syrian conflict that has killed more than 270,000 people and forced millions to flee their homes.
There is much anticipation around what signals Russia will send, since it is considered to hold significant sway over its ally Damascus.
Russia intervened militarily in Syria last September at President Bashar al-Assad's request, allowing the regime to retake significant territory it had lost to various armed opposition groups.
And while Russia has been withdrawing troops, it remains unclear how much pressure Moscow is willing to apply, with Putin stressing the country can ramp up its military presence in Syria again "within hours" if needed.
"No common vision"
UN mediator Staffan de Mistura, who has been shuttling between the sides in the indirect negotiations, has meanwhile voiced cautious criticism of the regime delegation for sticking to declarations on principles and not making concrete proposals on the thorny issue of political transition in Syria.
"We are beginning to exit the impasse on form but not on content," Jaafari acknowledged.
But he insisted that "we are close to breaking the ice that covered the previous round of discussions," which were aborted before ever beginning in earnest in early February.
And he admitted "there is no common vision on the question of political transition."
Assad's fate has been a key obstacle in the latest talks, with the government stubbornly insisting any discussion of him leaving is "excluded" and the opposition saying any talk of allowing him to stay is "absolutely unacceptable."
AFP contributed to this report.