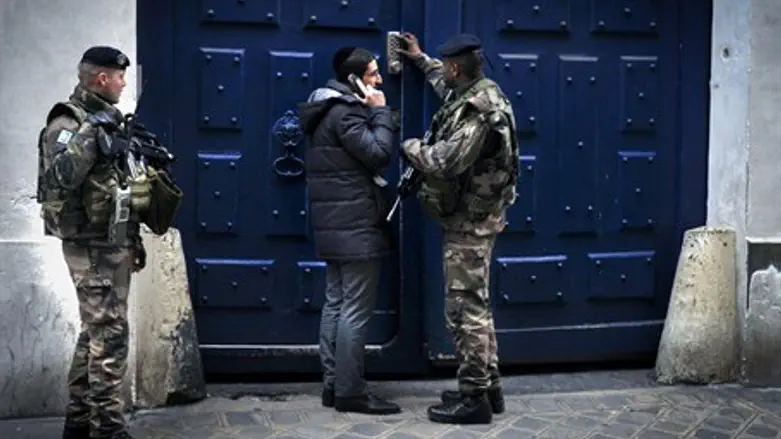 French soldiers guard the entrance to a Paris synagogue
Photo: Serge Attal / Flash 90
Muslim police in France refuse to protect synagogues as growing support for Jihad is affecting law enforcement, according to a Gatestone Institute report.
The report claims that a leaked confidential memo from the Department of Public Security, published by Le Parisien, detailed 17 cases of police officers radicalized between 2012 and 2015, noting that the police officers listen to and broadcast Muslim chants while on patrol.
According to the anti-terrorist unit of the French Interior Ministry, as of January 2016, France is already host to 8,250 radical Islamists (a 50% increase in one year). Some have gone to Syria to join ISIS while others have infiltrated all levels of society, including the police and the armed forces.
Some of these police officers have openly refused to protect synagogues or to observe a minute of silence to commemorate the deaths of Jewish victims of terrorist attacks.
The fact that police officers are armed and have access to police databases only intensifies the anxiety among France's Jewish communities. 
One policewoman allegedly incited terrorism on Facebook, calling her uniform a "filthy rag of the Republic" while wiping her hands on it. Moreover, after the January 2015 attacks on Charlie Hebdo and the Hypercacher kosher supermarket, which left 17 people dead, the same officer wrote on her Facebook page: "Masked attack led by Zionist cowards... They need to be killed."
"This is just the first hint of what is to come," writes Daniel Greenfield of the FrontPage. "At least they're not bombing (the synagogues). Yet."
While the Parisian police headquarters claim that these cases are rare, they decided to review on a weekly basis any behavior that oversteps the principle of separation of church and state, such as that of Muslim officers who appear to be leaning toward radicalization.