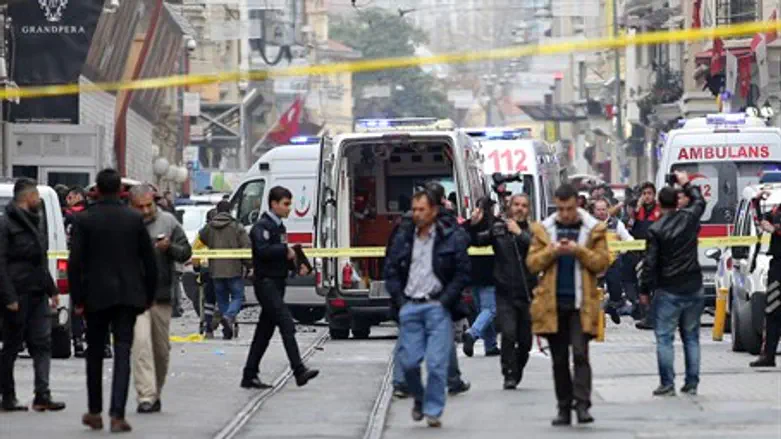 Site of Istanbul bombing
Reuters
Ya'akov Hagoel, deputy head of the World Zionist Organization (WZO), responded to the lethal Islamic State (ISIS) suicide bombing in Istanbul on Saturday in which three Israelis were murdered and another eleven were wounded.
Hagoel, who is also a member of the Jewish Agency Executive and head of the WZO's Activities in Israel and Countering Anti-Semitism Department, told Arutz Sheva on Sunday that the 23-year-old terrorist Mehmet Ozturk specifically targeted Jews in his attack, in which an Iranian was also killed.
Prime Minister Binyamin Netanyahu has said he has received no information that the terrorist specifically targeted Israelis, but according to Hagoel, Ozturk's bombing was part of a rising wave of anti-Semitism in Europe and Turkey.
"The writing was on the wall," said Hagoel. "We are talking about a very difficult decade; in the last decade every year there is more anti-Semitic violence than the preceding year."
He argued that terrorists have been influenced by the Turkish leadership; illustrating his point, in the aftermath of the attack, a member of the Turkish ruling party tweeted that she wished all the Israelis wounded in the attack would die - before being promptly fired from her post.
Hagoel said Turkish President Recep Tayyip "Erdogan and members of the parliament in Turkey provide a tail wind to these terrorists to attack Jews, in that they take part in anti-Semitic conferences."
"I have no doubt that this terrorist stuck to the (Israeli tourist) group, listened for Hebrew and only then detonated the explosive. From his perspective he wanted to harm Jews and Israelis," Hagoel told Arutz Sheva.
Despite his criticism of Erdogan, Hagoel praised the Islamist president's quick actions in firing the member of his party who made the offensive comments on Twitter following the attack.
"Erdogan responded as needed by firing the parliament member from his party, erasing the tweet in a short amount of time and contacting the Prime Minister of Israel in a condolence letter. This is how humans act," he said.
In a call on the Turkish President to continue acting in the same manner, he said, "Erdogan needs to take hold of himself and look at how he is protecting the wonderful Jewish community in Turkey. My heart is with the Jewish community, we must strengthen the security there."
Connecting the attack with the Purim holiday later this week, Hagoel added, "the story of Purim is a story of classic anti-Semitism. We as Jews must raise our heads in Jewish pride and say we are Jews and we are proud of our Judaism, and we will continue to be Jews despite the people who wish us harm."