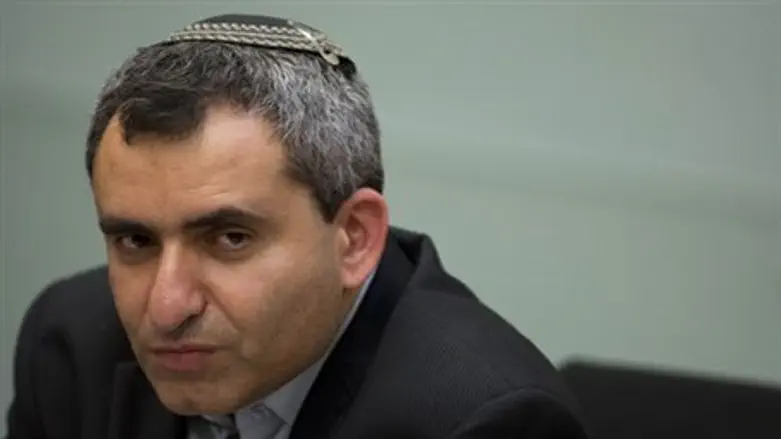 Ze'ev Elkin
Yonatan Sindel/Flash 90
Minister of Immigrant Absorption and Jerusalem Affairs Ze'ev Elkin (Likud), who is a member of the Defense-Security Cabinet, expressed outrage on Monday over reports in the Haaretz newspaper that Israel and the Palestinian Authority (PA) had held secret talks about transferring the security control for cities in Judea and Samaria to the PA.
"I am completely against the idea of ​​reducing the army's defensive operations in Area A and the transfer of responsibility to the Palestinian security forces, at a time when Palestinian terrorism is raising its head," Elkin said.
"It's time that our defense leadership finally understand that the responsibility for the security of Israeli citizens should be placed on the IDF and our security forces and not on the Palestinian security forces who will not do the job for us," he continued.
"The Palestinian Authority, which encourages incitement on a daily basis, is the problem and certainly not the solution," said Elkin, "We can not go back to the days before Operation Defensive Shield when they told us that the Palestinians will fight terror on their own. We have already paid a heavy price for this mistake during the second intifada."
Elkin added that he "demands that the Defense Minister immediately update the Cabinet on the negotiations that took place behind our backs and stop any progress in this dangerous direction without a thorough discussion and approval of the Cabinet."
Senior officials told Haaretz in the report Monday that Israel has offered to cease its actions in Area A almost completely, with the exception of "ticking time bomb scenarios."
The transfer would be carried out in stages, beginning with Jericho and Ramallah. Should this succeed, the IDF would gradually evacuate more and more cities.
Area A includes the largest Palestinian cities as well as their surrounding areas, and makes up about 20 percent of Judea and Samaria. Under the Oslo Accords, Israel handed over the responsibility for civil and security administration in the region to the PA, but it was forced to reenter and take back control during 2002's Operation Defensive Shield.