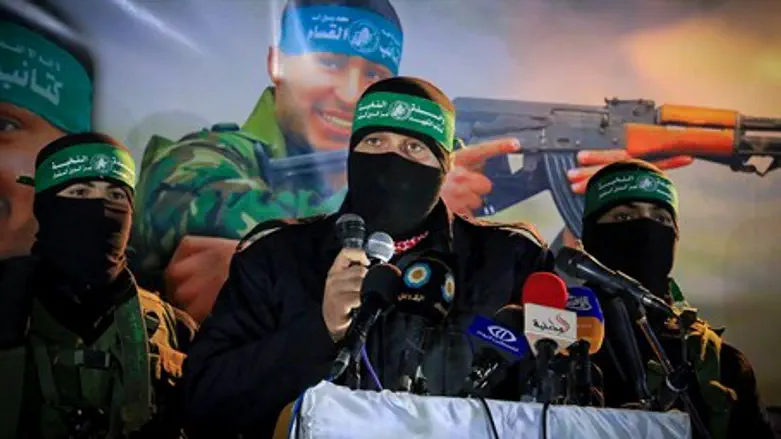 Hamas terrorists at Gaza rally (file)
Abed Rahim Khatib/Flash 90
The Hamas terrorist organization which rules the Gaza Strip has vowed revenge for an Israel Air Force airstrike which killed two people on Friday night, after terrorists fired rockets into Israeli territory.
The airstrikes targeted a Hamas military base embedded next to civilian homes in the northern Gazan village of Beit Lahiya. Two children were killed in the strike when shrapnel hit their home, according to Hamas's health ministry.
The pre-dawn wave of Israeli air strikes came hours after four rockets fired from the enclave by Palestinian terrorists hit the southern Israeli town of Sderot on Friday night. No one was injured in that attack, which was the latest breach of the ceasefire with Israel by Gazan terrorist groups.
"In response to the aggression, the Israel Air Force targeted four Hamas sites in the northern Gaza Strip," a military statement said.
Senior Hamas official Ismael Radwan called the Israeli strikes "an escalation" and placed "full responsibility" on the Jewish state.  
"The blood of the children killed in the Zionist raid will not flow in vain," the terror group's military wing, the Ezzedine al-Qassam Brigades, warned in a statement.
Our "patience with the attacks of the enemy has its limits", it added.
Since the end of the devastating war between Israel and Gaza terrorists in summer 2014, approximately 34 rockets fired from the Islamist Hamas-controlled coastal strip have hit Israel.
Most have been fired by jihadi groups linked to ISIS, although a few have been fired by factions aligned with the Islamic Jihad terror group as well. 
Israel holds Hamas directly responsible for all attacks from territory under its control.
AFP contributed to this report.