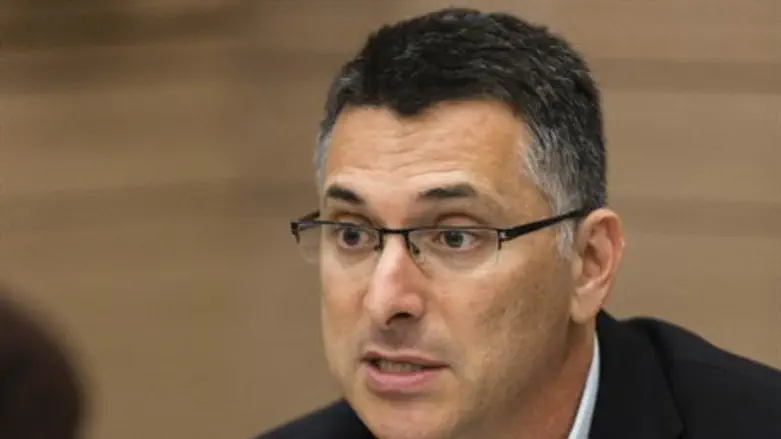 Gideon Sa'ar
Flash90
Former Interior Minister Gideon Sa'ar (Likud) blasted the government's inability to defeat the ongoing terror wave.
During an interview with Galei Tzahal radio Thursday morning, Sa'ar rejected claims that there is no solution to the crisis, lamenting that the government had yet to set clear goals and guidelines.
Without any decisive plan for action, Sa'ar argued, the terror wave would grow worse.
"The intifada won't end by itself," Sa'ar said. "Our security forces can, given the correct orders, achieve results." Sa'ar accused the government of inaction, saying "First of all you have to decide to act."
Specifically, Sa'ar called for the government to expel the large numbers of Arabs illegally living inside Israel and crackdown on those who incite against Israel.
"There are more than 100,000 Palestinian Authority Arabs residing illegally in Israel. Until now, no serious actions have been taken to try to arrest, punish, or deport them. There's no reason not to."
"Secondly, [we could] expel those who are inciting. Yes it's true we can't stop every single form of incitement online in social media, but there are people inciting from mosques and in the media, and these people need to be ceremoniously thrown out to Gaza."
"This isn't a series of lone-wolf attacks or an intifada of individuals," he said. "Palestinian society encourages murder and rewards young terrorists or their families for murdering Jews."
Sa'ar blamed Netanyahu for the failure to put an end to the terror wave, calling the government's policy a failure.
"In democracy the responsibility lies with the elected leadership. We can't accept this kind of situation as just being up to fate, we need to do something. It seems that thus far the responses to terror have failed."
The former Likud minister vigorously rejected claims that Israeli security forces were incapable of ending the terror wave.
"I was the coalition secretary under the first Sharon government during the Second Intifada. I also heard it being said constantly that there's no military solution, that we can't defeat [the Intifada]. And I say, that while it took time, the goal was clear and it was reached. Until the government gives our security forces clear goals and guidelines, it won't happen."
Sa'ar also voiced concerns about the government's failure to confront long-term challenges, warning of a looming demographic disaster in Jerusalem.
"If today's trends continue, by 2030 Jerusalem will be demographically split 50-50. There's a Palestinian effort to make a demographic link between Bethlehem and Ramallah [through Jerusalem], and Israel is doing nothing to stop it."
Despite his comments, Sa'ar responded that he currently has no plans to return to politics, saying, "I really don't miss politics all that much."
In response to Sa'ar's comments, the Likud issued a statement noting that the former minister had no experience in the security establishment. The statement also claimed that the government had taken "unprecedented steps in the war on terror".