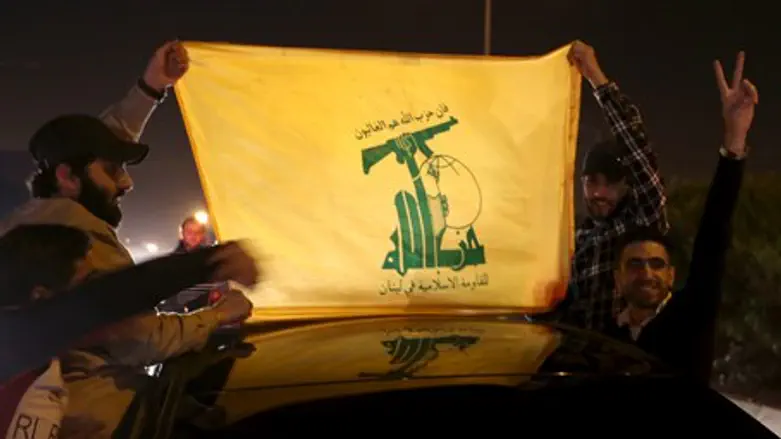 Hezbollah supporters with the group's flag (file)
Reuters
The Lebanon-based Hezbollah group on Thursday blasted a decision by Gulf monarchies to classify it as a "terror" organization for its role in regional conflicts, AFP reports.
"The decision by the Gulf Cooperation Council to designate Hezbollah as a terrorist organization is irresponsible and hostile and the Saudi regime must face the consequences," Hezbollah lawmaker Hassan Fadlallah charged, after a meeting of the group's parliamentary bloc.
The GCC on Wednesday designated the Shiite movement for its "terrorist acts and incitement in Syria, Yemen and in Iraq".
The move was the latest step taken by Gulf states, led by Sunni powerhouse Saudi Arabia, against Hezbollah, which is backed by Iran, Saudi Arabia's main regional rival.
Last month, Saudi Arabia halted a $3 billion program for military supplies to Lebanon to protest what it said was "the stranglehold of Hezbollah on the state".
It urged its nationals last week to leave Lebanon and avoid travelling there.
Qatar and Kuwait followed with similar travel advisories, while the United Arab Emirates banned its nationals from travel to Lebanon.
The GCC move can be seen as a step up in the tensions between the Sunni states and their Shiite rival Iran, in tensions that have particularly grown since the Iran nuclear deal last year that reportedly has already begun to launch a regional nuclear arms race.
Earlier on Thursday, Iranian Deputy Foreign Minister Hossein Amir-Abdollahian expressed Tehran's great outrage over the designation of Hezbollah and said, "Those who call Hezbollah terrorists, have intentionally or unintentionally targeted the unity and security of Lebanon."
"The terrorism tag for Hezbollah, the most potent resistance movement, and inattention to the Zionist regime's atrocities is a new mistake which doesn't benefit the regional stability and security," he said as quoted by the state-run PressTV.
The war in Syria has increased existing divisions between Lebanon's political blocs and produced a string of bombing attacks carried out by Syria-based militants on Lebanese soil.
Saudi Arabia has accused Hezbollah of supporting Iran-backed rebels in Yemen -- against whom Riyadh has led a bombing campaign since March 2015.
Fadlallah said on Thursday the GCC decision "won't prevent us from condemning the crimes of Saudi Arabia in Yemen, the kingdom's financing and support of terrorist groups in Iraq and Syria, or its collaboration with (Israel)".
The GCC move is not the first time that Hezbollah has been designated a terrorist group. In 2013, Bahrain became the first Arab country to blacklist Hezbollah, citing evidence that the group was attempting to incite terrorism from abroad.