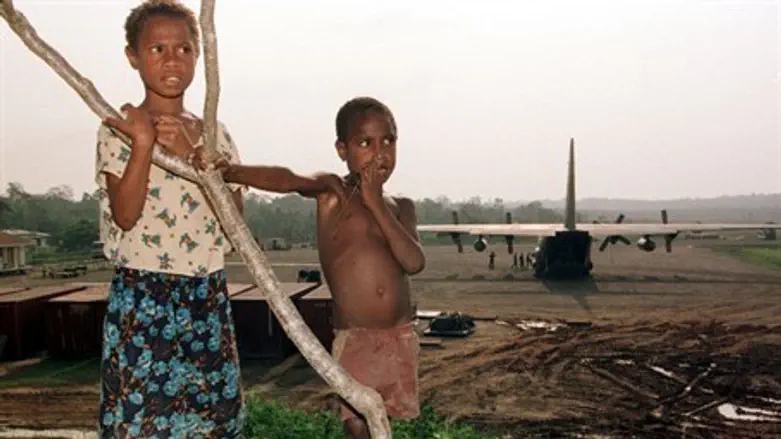 Children in Papua New Guinea
Reuters
Since last fall, millions in Papua New Guinea have suffered the ravages of a catastrophic drought that has wiped out crops and left villagers in the highlands desperate for drinking water.
Brought on by the hot El Nino winds, the drought is the most severe the island nation has experience in years and is expected to last up to 10 months.
Farmers have been devastated and villagers living in higher altitudes have been forced to eat clay to stave off starvation, The Guardian reports. Water-borne diseases have spread as locals been forced to rely on alternative sources of water.
In the midst of this disaster, residents are set to receive relief from halfway across the globe.
On Monday, the Israeli Foreign Ministry announced the donation of a state-of-the-art mobile water purification unit to Papua New Guinea. At an event held outside of the Foreign Ministry's office in Jerusalem, Deputy Foreign Minister Tzipi Hotovely announced the purchase of the mobile water purification unit and Israel's plans to ship to Papua New Guinea as a donation to help curb the effects of the drought.
The GALMOBILE unit, an Israeli-made self-contained automatic water treatment system, will provide villagers with up to 8,000 glasses of drinkable water per hour.
This is the second donation the Israeli Foreign Ministry has made of a GALMOBILE unit to help villagers in the South Pacific during El Nino seasonal droughts. Last year the ministry donated an identical unit to the Marshall Islands.
GALMOBILE purification unit
Courtesy of GAL Water Technologies