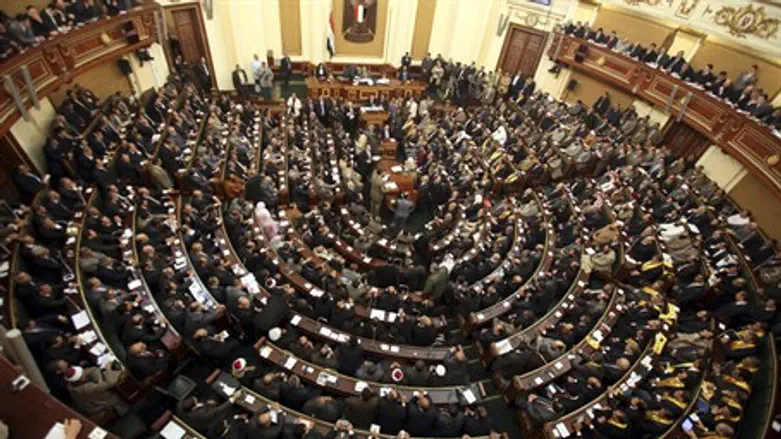 Egyptian parliament (archive)
Reuters
A group of Egyptian parliamentarians are planning to ask to sanction one of their colleagues over his meeting with Israel's Ambassador to Egypt last week, the Al-Ahram newspaper reported Saturday.
Tawfik Okasha came under fire last week after inviting Israeli ambassador Haim Koren to dinner, where the two reportedly discussed issues pertaining to Israel and Egypt.
According to Al-Ahram, a mixture of MPs, both independent and party-allied, have tabled requests with parliament speaker Ali Abdel-Al asking that Okasha be punished for what has been termed "committing the unprecedented crime of meeting with Israel's ambassador in Egypt".
The majority of MPs, led by novelist Youssef El-Qaeed, were reportedly angered by the meeting, which they called "a violation of the Egyptian people's campaign aimed at halting any moves towards normalization with Israeli officials."
El-Qaeed, a presidential appointee to the house, told reporters on Saturday that a statement entitled "MPs against normalization" will be delivered by the Social Justice parliamentary bloc during Sunday's session.
According to El-Qaeed, "Okasha's meeting with Israel's ambassador represents a crime against Egypt's new parliament and its MPs."
"This was the first time in the history of Egypt's relations with the Israeli enemy that Israel's ambassador went outside Cairo to meet with an MP in his home," said El-Qaeed, according to Al-Ahram.
The use of the term "Israeli enemy" by an Egyptian official may be surprising given that Egypt and Israel have a peace treaty, but it should not come as a surprise given that the 1979 peace treaty continues to come under scrutiny in Egypt.
In fact, a recent poll found that Egyptians see Israel as the "most hostile" of their neighbors, despite the peace treaty.
In 2013, the movement that led the opposition to former Muslim Brotherhood president Mohammed Morsi said it would target the peace treaty with Israel, by collecting signatures to a petition calling for its cancellation.
Nevertheless, there has been a warming of relations between the two countries since the election of President Abdel Fattah Al-Sisi. Just last week, President Reuven Rivlin accepted the credentials of Egypt's new Ambassador to Israel, Hazem Ahdy Khairat, marking the end of a more than three-year period without any Egyptian Ambassador to Israel.
Morsi recalled the previous ambassador in 2012 in protest of Israel's Operation Pillar of Defense in Gaza.