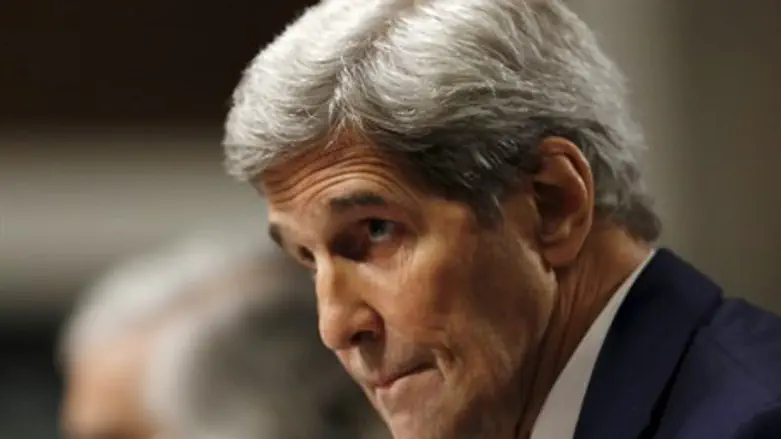 John Kerry
Reuters
US Secretary of State John Kerry warned Tuesday that Washington is considering a "Plan B" to deal with Syria if Damascus and Moscow are not serious about negotiating a political transition.
Briefing US lawmakers, Kerry said he had told Russia's President Vladimir Putin the United States would not wait more than a few months to see whether Moscow's ally Bashar al-Assad is serious about talks.
But he would not be drawn on details of any "Plan B" that he would advise President Barack Obama to adopt if efforts to mediate a political deal to end the Syrian civil war fail.
Diplomatic sources and US press reports suggest the new plan would involve more direct US and allied military involvement, but Washington remains very cautious about being drawn deeper into the conflict. Obama has already breached campaign promises by deploying troops to Syria.
"When I met with President Putin, I said to him very directly that the test is not going to be proven in six months or a year and a half, when the election is supposedly scheduled," Kerry told the Senate Foreign Relations Committee.
"We're going to know in a month or two whether or not this transition process is really serious."
Kerry met Putin in Moscow in December, and Obama spoke with his Kremlin counterpart on Monday to agree a plan for a "cessation of hostilities" to begin in Syria from Saturday.
The ceasefire will not include actions by or against the Islamic State (ISIS) jihadist group nor Syria's Al Qaeda offshoot Nusra Front, but Kerry hopes it will halt Russian and Syrian attacks on opposition rebel factions.
If it sticks, Kerry and Russian counterpart Foreign Minister Sergi Lavrov - joint organizers of the 17-nation International Syrian Support Group - will push Assad and the rebels to negotiate a political transition, with a new constitution and elections.
Some of the US senators expressed skepticism about the plan, but Kerry claimed Putin would not want to see Russian forces bogged down in a drawn out war if his ally Assad refuses to engage politically.
"There is a significant discussion taking place now about 'Plan B' in the event that we don't succeed at the table," he said, implying that such a plan would involve stepped up support for the rebel groups.
"I think President Putin is smart enough to understand that if he just sits there over a period of time, those people who have supported the opposition will get different weapons, more weapons, and they will continue this fight," he said.
Saudi Arabia, reportedly with the help of the CIA and other US allies, has been supplying arms to some rebel factions and Saudi officials have suggested in certain circumstances they and Turkey could both deploy troops.
AFP contributed to this report.