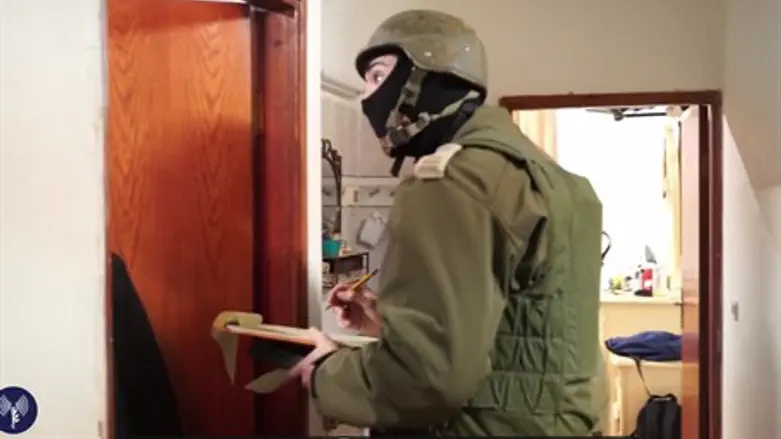 IDF maps out the homes of the terrorists
IDF Spokesperson Unit
IDF forces on late Thursday night mapped out the homes of the two 14-year-old Arab terrorists who murdered 21-year-old Staff Sergeant Tuvia Yanai Weissman earlier in the day at a Rami Levy supermarket in Sha'ar Binyamin.
Weissman, who was shopping with his wife and four-month-old baby daughter at the time, was stabbed as he tried to stop the terrorists from attacking others. Another victim, 36-year-old Avi Avital, was moderately wounded but is to be released from the hospital on Friday after making a miraculously rapid recovery.
In the IDF operation together with the Civil Administration just hours after the stabbing, the homes of Omar Samir Rimawi and Iyab Bassam Ibrahim Tzabah in Bitunia near Ramallah in Samaria were mapped out by the soldiers.
צה"ל נערך להרס בתי המחבלים הרוצחים
Avital, who was moderately wounded in the attack, is a resident of Tel Tzion in the Binyamin region of Samaria.
He is to be released on Friday in a surprisingly quick turnaround, after being evacuated to Hadassah Mount Scopus Hospital in Jerusalem the day before.
Avital thanked the medical staff at the hospital, saying, "my happiness is diluted by the sadness of the Weismann family from Ma'ale Mikhmas on the murder of Yanai hy''d in the same murderous attack, may they be comforted from Heaven."
Security cameras at the Sha'ar Binyamin shopping center revealed the terrorists being stopped for questioning by a security guard at the entrance to the center. After roughly a minute-and-a-half of questioning they were let in - with the lethal knives hidden on their bodies.
Other footage revealed the two walking freely in the Rami Levy store for a full 20 minutes as they hunted for victims before attacking.
After stabbing their two victims, the terrorists were shot by two armed civilians in the store, and then brought in for treatment at Hadassah Mount Scopus Hospital.
Following the attack, the IDF decided to close the Sha'ar Binyamin Industrial Zone to Arab entry, aside from employees with work permits at the site. It was also decided that a route connecting Al-Ram and Adam will be closed to Arab traffic, and that security checks on Arabs coming out from the Ramallah region will be intensified.