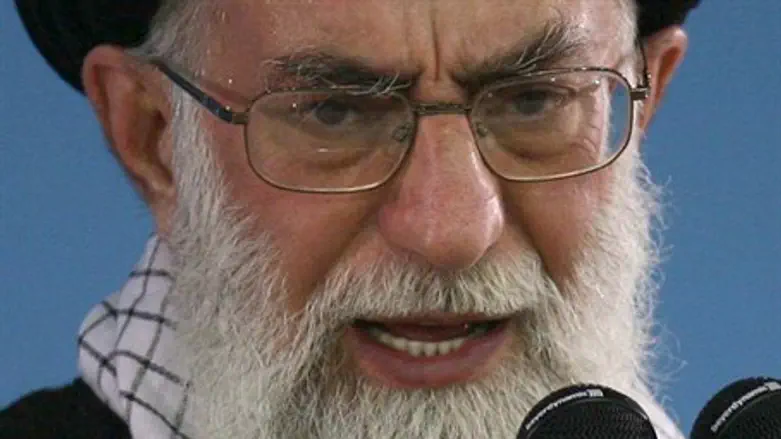 Ayatollah Ali Khamenei
Reuters
Iran's Supreme Leader Ayatollah Ali Khamenei continued his verbal attacks on Israel on Wednesday, this time claiming that the "global Zionism network" dictates the United States' and many EU members' policies vis-a-vis Iran.
The comments, quoted by the semiofficial Fars news agency, reportedly came in an address Khamenei gave to what was described as "a large crowd from East Azarbaijan".
"The U.S. and many European governments' policies are dominated by this (Zionist) network, and the Americans' dealing with Iran's nuclear issue should be understood within this particular framework," he claimed.
"Following the lengthy trend of the talks and the pursuing nuclear deal, a U.S. official has in recent days said they would take (the necessary) action to dissuade foreign investments in Iran," Khamenei said, adding in response that "this demonstrates the depths of the U.S. hostility toward the Iranian nation."
He further said that the Iranian team for the nuclear negotiations and their backers at home made industrious efforts to strike a deal in a bid to improve Iranian economy through foreign investment, "but the Americans now want to block this path".
"And that's exactly why it has been repeatedly stated that Americans are not trustworthy," Khamenei stated, according to Fars.
The comments come one week after Khamenei blasted the United States for their support of "child killing" Israel.
On Wednesday, in response to Washington's protests against the slogan of "Death to America" being chanted in nationwide rallies, Khamenei said, "When you act like this, when your past and present is nothing but open hostility, what else do you expect from the Iranian people?"
The remarks are part of Khamenei's ongoing rhetoric against the United States, to which he refers as the "Great Satan".
Israel has also been continuously targeted by Khamenei, who several months ago went so far as to publish a book on the topic of outwitting the United States and destroying Israel. 
He has in the past referred to Israel as a "cancerous tumor" and also predicted several months ago that the Jewish state will not exist in 25 years.