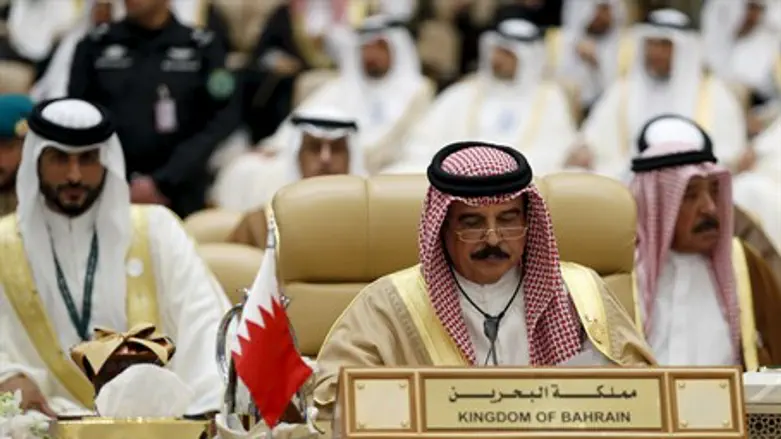 Bahrain's King Hamad bin Isa al-Khalifa (file)
Reuters
A princess from the Islamic country of Bahrain chose to receive life-saving treatment in Israel – and as a result, years later, Deputy Minister for Regional Cooperation Ayoub Kara has now been invited to pay a diplomatic visit to the kingdom.
Kara, a Likud MK of the Druze community, told Arutz Sheva Tuesday that he cannot name the princess, nor when she came to Israel. However, other sources stated it occurred in Haifa's Rambam Hospital in 2010. He said that no other Bahraini princess had ever been treated in Israel.
Deputy Minister Kara said that he disclosed the information about the princess in order to explain why he received the invitation. "The proper diplomatic channels approved what I said," he noted.
Kara said he hopes to use the opportunity to strengthen Israel's unofficial relations with Sunni Arab states, and especially Saudi Arabia, in the region. "Our common enemy is Iran," he said, "and as I said many months ago, the Prime Minister and others are now saying how important are our relations with this coalition."
The islands of Bahrain are located near the western shores of the Persian Gulf, east of Saudi Arabia to which it is connected by the King Fahd Causeway. Iran is located 200 kilometers to the north across the Persian Gulf. 
The princess in question was given the chance to undergo the necessary operation in the U.S., but she chose to have it in Israel. Prime Minister Binyamin Netanyahu approved the idea, and she remained in Israel for a total of about two months, including rehabilitation time.
According to Kara, she believed that Israel offered the best chances for her full recuperation.
"Bahrain's human rights climate remains highly problematic," according to Human Rights Watch. "The country's courts convict and imprison peaceful dissenters and have failed to hold officials accountable for torture and other serious rights violations."  Most notably, policewoman and princess Sheikha Noura bint Ibrahim al-Khalifa was acquitted in 2013 on charges of having tortured doctors two years earlier.
Kara told Arutz Sheva that al-Khalifa was definitely not the princess who was treated in Israel.
He said that the violent Shiite demonstrations in Bahrain in 2011 have still not totally settled down, and that Shiite-Sunni tensions are very much in evidence even within the ruling elite.