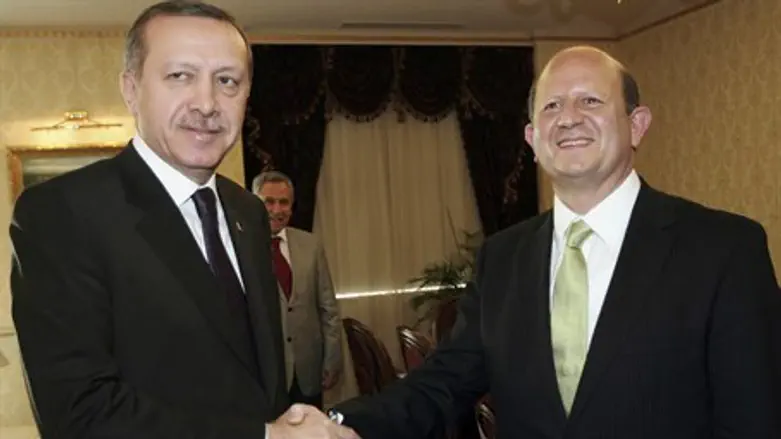 Erdogan with leader of Turkish Jewish Community Sami Herman (file)
Reuters
Jewish relations with Turkey's Islamist-led government have been anything but simple, as President Recep Tayyip Erdogan's recent move to rekindle Ankara's relationship with the State of Israel has aptly illustrated.
From once saying that Israelis "resemble Nazis," among other choice phrases, Erdogan has come a long way it seems, more recently claiming in a public address that Israel needs Turkey, and Turkey needs Israel.
While his sudden change of heart has a lot more to do with realpolitik than principles - Ankara having found itself in a corner after betting on all the wrong horses, both regionally and internationally - none will be more pleased than Turkey's own roughly 20,000-strong Jewish minority.
Yet while the community has previously voiced its concern over the incendiary anti-Israel remarks of Erdogan and other senior AKP party officials, the ancient community has weathered that storm very well.
In fact, the Turkish Jewish community "was integral" in setting up last week's historic meeting between Erdogan and a group of American Jewish leaders, according to one of the US leaders present there - exhibiting Turkish Jewry's sense of belonging and ability to punch above its weight politically.
Martin Oliner, who among other things heads the Religious Zionists of America (RZA), told Arutz Sheva that Turkish Jews "consider themselves Turkish in every way - they're part of wider society - and looking forward to a good, continued relationship with their government."
Oliner noted the irony in how, at a time when Jews in Europe in particular are leaving for Israel, Turkish Jews feel relatively comfortable (although a small but steady flow of mainly young Jews are leaving for a variety of reasons as well).
He attributes that to Erdogan's own distinction (often shared by more junior AKP officials) between the State of Israel and Turkish Jewry. The Turkish President has "been careful to safeguard and protect" his country's nearly 2,500-year-old Jewish community, Oliner says.
Indeed, even prior to the latest, renewed talk of rapprochement with Israel, late last year Erdogan wished Turkish Jews a happy Hanukkah, even as the community celebrated its first public Hannukah candle lighting ceremony in Istanbul.
Oliner, who is also Mayor of Lawrence in New York, cited a desire to tease out such intricacies and complexities among the Jewish Diaspora as a key motivation for launching the RZA's new magazine, The Jewish Word (available for download here).
"It's a paper, particularly the latest edition, which essentially focuses on the status of world Jewry," which is far more complex than many in the Diaspora's largest Jewish community, the United States, may appreciate.
The State of Israel plays a crucial role in contemporary Diaspora Jewish life of course, for a whole host of cultural, religious and strategic reasons.
But Oliner says he observed during his recent tour of the Middle East with the Conference of Presidents of Major Jewish American Organization - which also included Egypt and other Sunni Arab states - how Israel has also become a "world player," respected for its technological advancements, military prowess and robust democracy, among other things.
"From India to Russia, Israel has become a world state, even a world power of sorts," he said, predicting that the coming decades would see world Jewry coalesce more and more inside the Jewish state.
"With time what we will see is many countries in the world where there is a lack of freedom, increased terrorism, anti-Semitism and such, we're going to see an increasing number of people making aliyah.
"I think there are few places in the world where the galut (exile or diaspora) will continue," Oliner predicted.