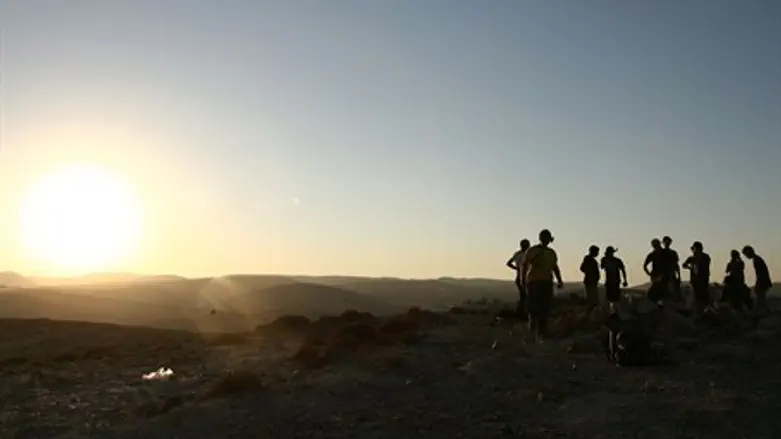 Hilltop youth in Binyamin region
Photo by Omer Messinger/FLASH90
A new poll conducted by the Mesaker polling firm reveals that the "hilltop youth" are unpopular even within the generally right-leaning national religious camp.
The hilltop youth, a relatively new phenomenon within the Jewish community in Judea and Samaria, emerged in the late 1990s and early 2000s as a small, distinct, and tightly-knit group often residing in small outposts.  
In recent years the hilltop youth have become popularly associated with the rise of "Price Tag" attacks – vandalism and arson directed against Arab civilians in response to Arab terror attacks and the demolition of Jewish homes in the region.
When asked to rate the hilltop youth as a group in terms of how much their actions contribute to or harm the settlement movement, respondents gave the hilltop youth generally negative ratings on both questions.
Respondents ranked both the contributions the hilltop youth have made to the settlement movement and the damages they cause on a scale of 0 to 10, 0 indicating very little affect and 10 indicating a very significant affect.  
In terms of rating contributions by the hilltop youth, the average response was between 3 and 4.  A full 24% responded with 0, indicating no positive contributions whatsoever.
On the flip side, most respondents indicated that the hilltop youth caused high levels of damage to the settlement movement, with 28% ranking the negative effects at 10, or extremely destructive.  
Dr. Ido Liberman from the Mesaker polling agency noted that the national religious sector appears to have a generally negative opinion of the hilltop youth and not merely of the "Price Tag" vandalism and attacks that have gained public attention in recent years.
"It's important to emphasize that we did not ask about 'Price Tag' incidents," he explained. "Interestingly, the picture seems extremely clear. Based on the data, most respondents see the hilltop youth as causing a great deal of damage while contributing very little."